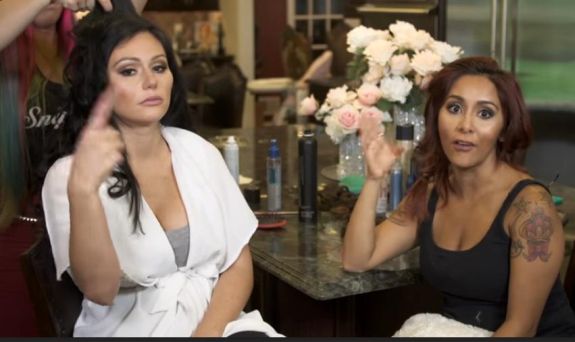 By Holly Rasmussen
Nine months after their MTV reality show ended, Nicole 'Snooki ' Polizzi and Jenni 'JWoww' Farley have announced that they are coming back to television…sort of. The former Jersey Shore party girls turned momtrepreneurs, announced this week that their new show, Snooki & JWoww: Moms With Attitude will premiere later this month on the Awestruck Channel. (Are you wondering what Awestruck is? Us too! Apparently it is some sort of online digital channel aimed at millennial moms. The content goes to Facebook, YouTube, and Verizon phones via Awesomeness TV.)
This will not be the first time Snooki has entered the mom market. She published her book Baby Bumps about her journey to motherhood in 2013. She is now the mother of two children, while recently married JWoww has one daughter and a son on the way.
During the preview clip for the show, Snooki and JWoww stay true to their ever-classy selves.
"I like sex midday," JWoww says.
"I like sex whenever I can get it," Snooki replies.
In addition to their show together, each mom will have her own channel on the Awestruck network.
Both girls claim they have changed their partying ways in the years since they became mothers.
"I am a mom of two kids and my lifestyle has basically changed. But I do still have my opinions and I'm going to share them," Snooki says.
"I may be hotter, older and wiser since I left the Shore but that does not mean my life has slowed down one bit. I have an amazing fiancé, an even better daughter, and a ton of videos I get to show you of my life as it is now," JWoww adds.
You can tune in for all of their adventures starting on Friday, November 13.
Watch the trailer for 'Snooki & JWoww: Moms With Attitude' below.