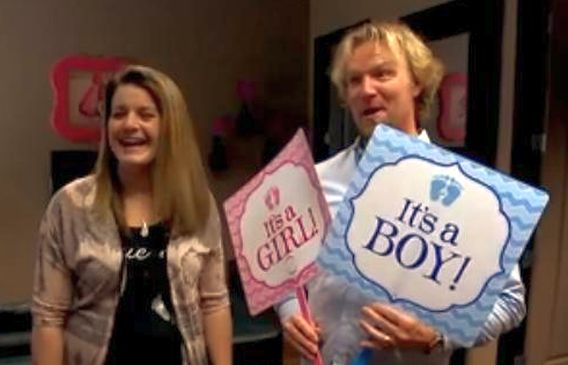 By Holly Rasmussen
Kody Brown of TLC's Sister Wives has been busy doing what he does best—making babies!
Kody and his fourth wife, Robyn, are expecting their second child together and on tonight's episode of Sister Wives the couple finally revealed the baby's gender to their extra-large family. (Robyn has three children from her previous marriage and Kody has a whole litter of kids with his three other wives, Christine, Meri, and Janelle.)
The newest Brown will make baby number 18 for Kody.
During the episode, Kody and Robyn revealed that they are expecting… a girl! That brings the grand total of Brown family offspring to seven boys and 11 girls.
The couple decided to do a big gender reveal while the family is on vacation in Alaska. They revealed that they were having a girl by having Kody's youngest kids unwrap a package to find a pink present.
Kody's youngest son, Solomon, is none too thrilled to be getting a little sister but the rest of the family seems thrilled…or as thrilled as you can be when you do this same thing nearly once a year for 18 years.
Christine is happy for her daughter Truly.
"She needs a little girl to play with," she says.
Kody's son Hunter is adorably happy to have another sister.
"I'm glad it's a girl. I feel like I have a lot of sisters, but that's okay because I love my sisters," he says.
In a video released by TLC after the gender reveal, the family is shown brainstorming names for the baby. One of the young Brown girls suggests Ellie, while another wants the baby to be named Elizabeth. (Maybe they'll pay homage to their TLC cash cow and name her Telcy?)
Baby Telcy (working title) will be coming our way in January 7.