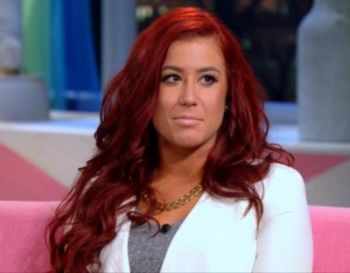 File this under "we shouldn't care but we kind of do…"
Adam Lind got some new ink over the weekend, and one of the tattoos garnered him a lot of feedback from Teen Mom 2 fans!
Adam proudly showed off his new three tattoos in a series of Instagram posts on Sunday night. Two of the tattoos– a leg design and Grim Reaper portrait– garnered positive comments but the third tattoo, which showed a zombie girl eating a heart (as you do) spurred quite the comment frenzy from 'Teen Mom 2' fans.
The reason? The tattoo depicted a redheaded girl who looked a lot like Adam's ex, Chelsea Houska!
Adam's caption, which described the tattoo as being "My sexy redhead…eating my heart out," added to fans' suspicions that the tattoo was supposed to be Chelsea, whom Adam had an on-and-off relationship with for years after their daughter Aubree was born.
"Um is that supposed to be Chelsea?" one fan wrote. "Or you just have a thing for redheads?"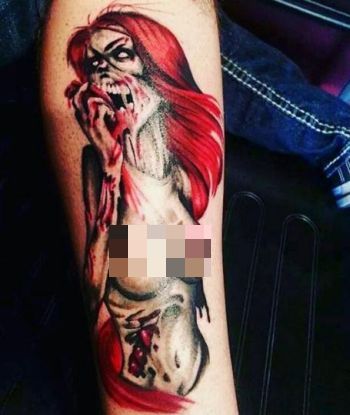 "I'll let y'all figure that one out!" Adam replied, obviously enjoying the hubbub that his tattoo would cause among the 'Teen Mom' fan world.
Chelsea's current hair style matches the tattooed woman's hair color and hair length (and even the style Chelsea usually wears her hair). However, she had many different hair colors while she was dating Adam– everything from blond to dark brown.
Just for the record, The Ashley wouldn't normally bother to write about a reality TV star's tattoo (unless it was ridiculously bad, of course), but this one caused enough controversy to warrant a write-up. The actual tattoo is well done.
Chelsea has yet to comment on her ex-boyfriend's new tattoo, and it's unlikely that she will. She stated during the recent 'Teen Mom 2' Season 6 reunion that she rarely talks to Adam. She is currently living with her boyfriend of over a year, Cole DeBoer.
UPDATE: Several days after posting the tattoo photo to his Instagram, Adam told a fan that he did not intend for the tattoo to look like Chelsea.
"I don't miss [Chelsea] and I'm sure she feels the same," Adam told a fan on his Instagram. "And to everyone .. This tattoo is about 3yrs old…"
(Photos: MTV, Instagram)