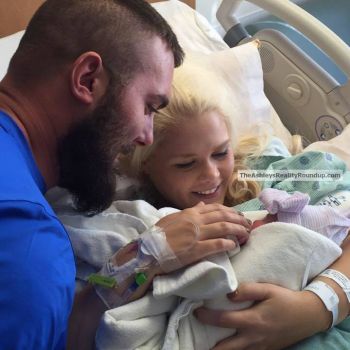 The newest Teen Mom 2 star just couldn't wait to make her entrance into the world!

The Ashley can confirm that Corey and Miranda Simms have welcomed a daughter, Remington Monroe, this weekend. She was not due until January 1, but it appears to be healthy, despite her early arrival.
Corey and Miranda posted a family photo to their private Facebook account this afternoon, showing Miranda and Corey holding their new daughter. Another post stated that "Remi Monroe decided to make an early arrival."
Remington was given the middle name "Monroe," because  it is the middle name of Miranda's father. She reportedly weighed 4 lbs. 11 oz. at birth.
Remi is Miranda's first child and Corey's third. (He shares twin daughters with his ex-wife, Leah Messer.) The couple has been married since June 2013 and recently gained full primary custody of Corey's twins.
It is not known if Remi was born today or yesterday, but Corey's father, Jeff Simms, hinted yesterday that the baby's arrival was rapidly approaching (possibly because Miranda was already in labor?) 

"Won't be much longer until we are blessed with another miracle from God" he captioned a photo of a highchair.
Back in September, The Ashley was the first to confirm that the Simms were expecting a girl.
Congrats to Corey, Miranda and the entire Simms family!
UPDATE: Corey's father Jeff introduced his new granddaughter via this sweet Facebook post.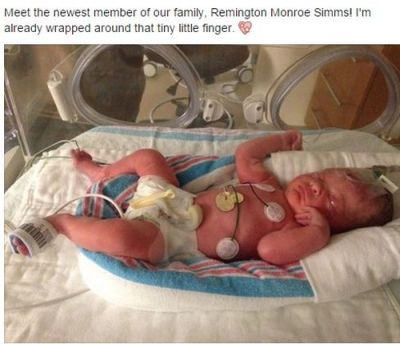 "We are so happy and excited," Corey told MTV News on Monday. "Miranda and the baby are both healthy and happy, and we can't wait for Ali and Aleeah to meet their little sister."