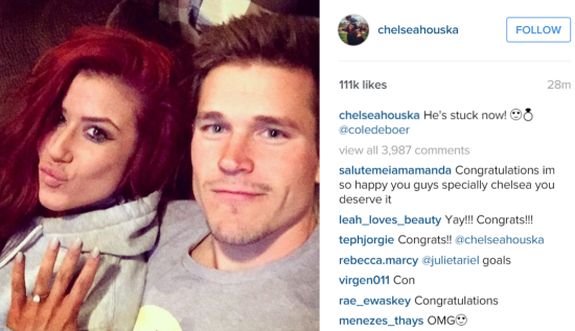 It's official– Chelsea Houska and Cole DeBoer are getting hitched! 

The Teen Mom 2 stars announced on Wednesday afternoon that they are engaged to be married. Chelsea, who has been dating Cole for over a year, posted several photos to her Instagram account in celebration of the happy news.
"He's stuck now!" Chelsea captioned a photo of herself showing off her giant ring.
She captioned a close-up shot of the ring by reflecting on how happy she is to have Cole in her life.
"I honestly cannot believe how lucky I am," she wrote. "Finally found my Prince Charming and I get to be with him for the rest of my life!"
Cole also posted about the engagement on his Instagram.
"Glad to be stuck with this fine piece of accccce!" he captioned a shot of him and Chelsea being silly.
In an interview with MTV News, Chelsea shared how Cole popped the question. Of course, Chelsea's daughter was involved in the proposal.
"Cole brought me to a personal spot in the woods where he had photos lining the tree," Chelsea reveals. "The pictures hanging were of him and I and the three of us as a family."
"Cole asked Aubree if it was okay if he married her mommy," Chelsea said. "She immediately said yes, was extremely excited, and gave him a big hug."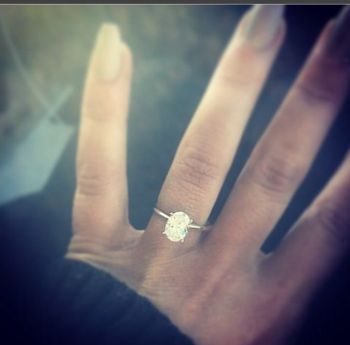 Chelsea and Cole moved in together earlier this year, and, judging from her comments made during a Facebook Q&A in September, she had been anticipating a proposal from Cole.
"I sure hope so," Chelsea responded to a fan who asked if she planned to marry Cole. "I am so so so grateful every day for that man," she wrote. "He has adapted [to being a father figure for Aubree] above and beyond what I could've ever expected. I feel very lucky."
Chelsea's father, Randy Houska, expressed his and his wife's joy over the engagement on Facebook.
"Welcome to the crazy Houska train, Cole," he wrote. "Rita and I couldn't be happier."
Chelsea and Cole have not yet announced when or where they'll wed, but it's likely we'll get to watch Chelsea's proposal play out on the next season of 'Teen Mom 2.' As The Ashley confirmed to you back in September, the cast is currently filming Season 7!
(Photos: Instagram)