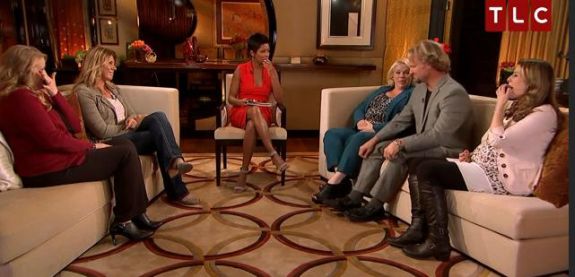 By Holly Rasmussen & The Ashley
It's time for the two-hour "Sister Wives Tell-All!" At the end of every season, Kody Brown and his wife Robyn (along with "the others") sit down with Tamron Hall to film a "tell all." Since this season covered the catfishing of Meri Brown, this special should actually have some juicy parts.
Tamron, who has the best narrator voice ever, starts the show out by talking about how Meri initiated a divorce from Kody so he could marry Sobbin' Robyn. While Robyn and  Meri wanted the legal marriage between Kody and Robyn to have a some fanfare, Kody did not. And, if we've learned anything from this show it's that Kody always gets his way. They discuss how Kody basically told his wives that what they wanted in regard to his wedding to Robyn didn't matter, and Kody seems to have no remorse for acting like a total douche-nozzle for the majority of the season.
Tamron isn't playing, however. She's determined to get some actual usable soundbites from the Browns.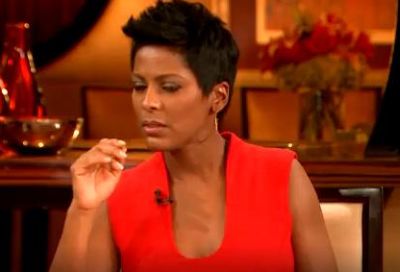 "How do you feel, this might offend you, that so much emphasis that was put on a legal document that legitimizes one wife of the four you have?" Tamron asks the family.
Robyn, eager to get the attention back on her, tells Tamron that she's offended by that question. The "others" (aka Janelle and Christine), meanwhile, seem to have no problem with the question and seem exhausted by the whole conversation.
Robyn says it's frustrating that people can't see how serious their spiritual marriages are. We do actually believe that, though. Why else would three women stay with Kody if they weren't spiritually bound to him?
Tamron reads a question from a fan on Facebook who asked if Kody was going to divorce Robyn and remarry Meri now that the adoption has gone through. Kody's face goes pale at the thought of this and, of course, answers no.
"Why would I go through that process again?" Kody asks.
Um…to make the wife who wants to leave you feel like she matters, perhaps?
Janelle, the best person on this show, is always the voice of reason and says nothing has changed in her personal relationship with Kody. They are still content in their business partnership, er, marriage.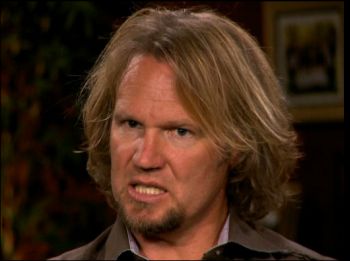 Next, Tamron gets the group talking about the process of getting Robyn's ex-husband, David Preston Jessop, to sign over the rights to DaytonAuroraandBreana. Kody says he was "emotionally violent" about the whole thing.
"Those children were going to be mine and I was going to do everything it took," he said.
Meri explains that she was "disconnected" during the adoption process because she was going through "external issues." Ooooh. Just when we think we are finally getting to the juicy catfish stuff…we realize we have to sit through more Robyn crap.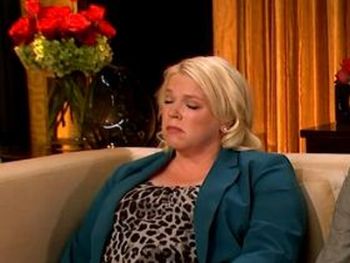 We get to rehash Robyn announcing her pregnancy. Yawn.
Next we get to talk about how Kody and Christine took their therapist on their anniversary trip.
"Who takes a therapist on an anniversary trip," Tamron asks. We feel you, Tamron. We feel you.
Christine said they did it to save time.
"She was way needed," Christine said.
Obviously.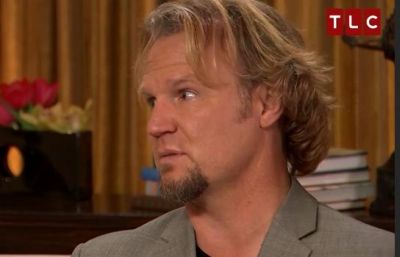 Kody reveals that about five years ago, Christine was yelling that she hated plural marriage and didn't want to do it anymore. He said that "broke the trust." Christine said it comes down to her lack of confidence.
Tamron, who is luckily being quite the little pot stirrer this time around, asks the other wives to give her an example of a time Christine felt jealous of them.  Robyn refuses, professing, "I ain't doing that, it goes against the girl code."
Anyway, Kody and Meri try to say they've always been open about there being jealousy between the wives, but Tamron isn't letting that slide.
"I think you've greatly downplayed it until this season," she says.
Go, Tamron!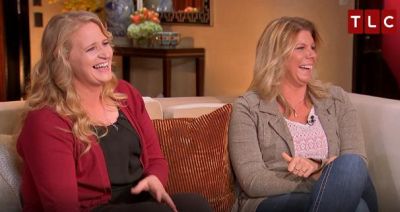 Christine finally gives a little and says she feels jealous when Kody doesn't spend enough time with her. Kody says they didn't struggle as much when they were younger, but it's gotten worse over the years. (Hey, give him a break; it's hard to find time for "the others" when all you want to do is bone Robyn!)
Tamron then sits down with the older Brown children, who have been dragged off their college campuses to film this crap.
Apparently, there's a kid named Paedon in the family? He appears on the couch for the very first time on a "Tell All." (He must belong to one of the "other" wives?)
Tamron asks the kids if they plan to live a plural marriage lifestyle. Mariah, who used to be very outspoken about wanting to live the lifestyle, now says she's not sure if she wants to sit back and watch a couple of women boink her husband on the regular. (Surely watching her mother cry many a night alone at her wet bar has made Mariah reconsider polygamy.)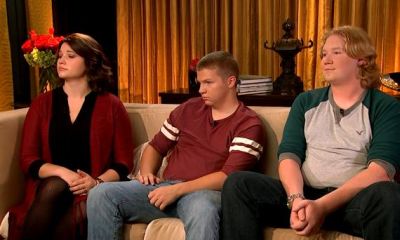 In fact, none of the other kids want to live plural marriage.
"I will never be able to share my husband and I don't feel the calling," Maddie says.
After a talk about Meri and Janelle attempting to repair their relationship, it's finally time to get to the catfish stuff! We've sat through over an hour of filler to get to this point! TLC, you're just plain cruel.
We go back to the conversation the group had in Alaska where Meri tells the Brown adults that they shouldn't be surprised if she just disappears for a while. Meri finally goes into detail about the online "friendship" she had with a "man" named Sam Cooper. Apparently, he contacted her and offered support during her divorce from Kody. She said they started talking online, and that progressed to phone calls.
"I really enjoyed the friendship and the laughter," she said. "He started saying all the right things. He started saying very flattering comments and expressing affection and love. And I fell for it. I started to love who he was portraying himself to be."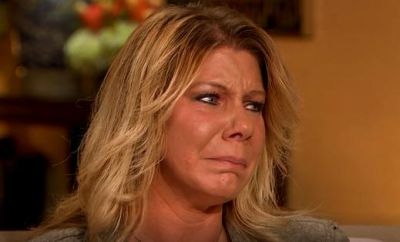 Tamron asks her about the voicemails and letters that surfaced in the media from her to Sam. Meri blamed it all on Sam. She said he "told her" to call him and leave him those messages.
"He was specific about things that he wanted me to say," she says.
Yeah, OK, Meri. Next you're going to tell us that Kody's a patient and satisfying lover!
Meri continues to fib, telling us that "Sam" gave her "subtle threats" that a friend of his was a hacker who could wreak havoc on the family. Meri said she actually met that friend in person but she never met Sam in person.
Meri goes on to say that she felt threatened and scared so she distanced herself from the family to protect them. Meri said Sam was able to track her and even called her while she was out and knew exactly where she was. She said she was afraid of what he could do to her and her family.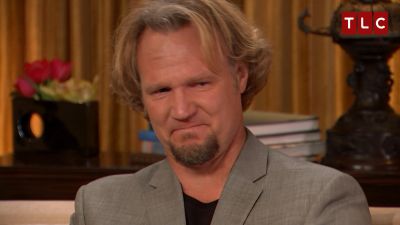 Kody said when he found out about the situation he tried to talk to Meri about it, but Meri was afraid that her house was bugged so she didn't really talk to him about it. Tamron takes it back a little bit and asks Kody what he thought about the relationship. Kody said he thought Meri was flirting with Sam online and he tried to talk to her about it.
"I wasn't sure if she was done with me," Kody says. I was trying to be hands off so I wasn't being controlling." Translation- he was too wrapped in Robyn to care. (From what the catfish has said, things between Kody and Meri had been "hands off" for a long time before the catfish came into play…)
Tamron asks Meri if there was any physical relationship with the "Sam" person. Meri said no, and states that the pictures that "Sam" sent her of himself were actually photos of an actor. Meri said she believes the person's goal all along was to break up the family.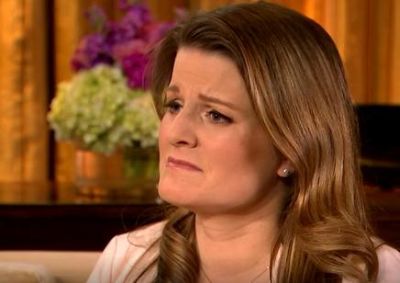 Since she hasn't had any camera time in several minutes, Sobbin' Robyn chimes in and says she knew something was up with Meri all along.
"I'd been begging her for months to talk to me," Robyn says tearfully. "I knew something wasn't right."
Kody seems pretty chill for someone whose wife is admitting to an emotional affair.
"Nothing but forgiveness," he said. "I see it as a flirt. So what?"
Um…your wife was heard saying she loved another man, and admitted that she wanted to leave you for him. At least pretend to care, Kody.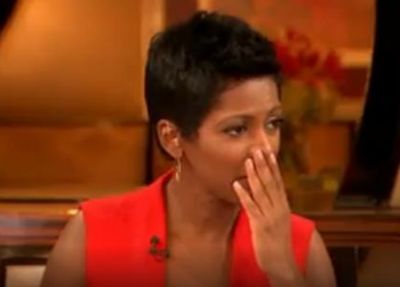 In the end, all of the Browns state that things are much better now than they were when the season was filmed. Tamron confirms that 'Sister Wives' will be back for a seventh season. The special ends with the youngest Browns, Truley and Solomon, coming out and hiding their faces from the cameras. The whole night we had been promised that two "special guests" were going to make an appearance during the special.
A raise of hands: Who else was hoping that the catfish and Robyn's ex-husband would be special guests? If this had been 'Maury,' they would have both stormed the stage, chairs-in-hands, ready to box Kody.
If only…
See ya next season!
To read Holly's previous 'Sister Wives' recaps, click here.
(Photos: TLC)