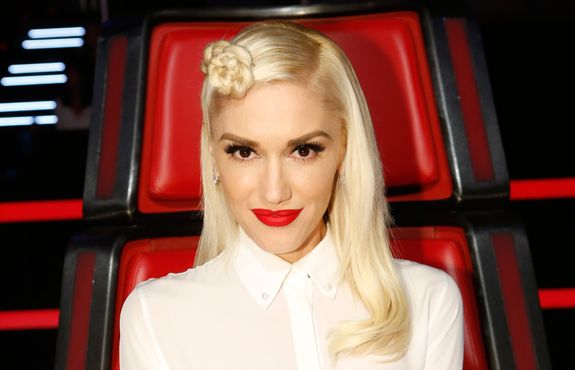 Unless you've been living under a rock for the past month, you're probably well aware that Gwen Stefani is currently dating Blake Shelton, her fellow coach on The Voice. Since the couple confirmed their relationship earlier this month, they have done little to hide their affection for each other, even during work hours.
(For the record, The Ashley is still unsure how she feels about the Gwen/Blake pairing.)
Anyway, the coaches of 'The Voice' walked the red carpet at Universal Studios last night, before heading in to tape the Top 11 show live. For their stroll down the red carpet, the show's production team decided to pair Gwen with fellow coach Adam Levine instead of her new boo Blake, but that did little to prevent nearly every reporter from asking Gwen about her new romance.
Gwen seemed reluctant to talk about her boyfriend Blake (and kept trying to steer the questions back to Team Gwen), but eventually she just couldn't help but talk about her man, as evident in the adorable Instagram video below.
A reporter from Entertainment Tonight is shown asking Adam Levine about Blake.
"Blake's just my buddy," Adam says. "I'm just kidding, I love you Blake, kinda, ish."
Gwen pops her head into the camera's frame to proclaim, "I love you too, Blake…ish!"
Um…yeah, adorable.
Watch the cute clip below!
(Photo: NBC Twitter)