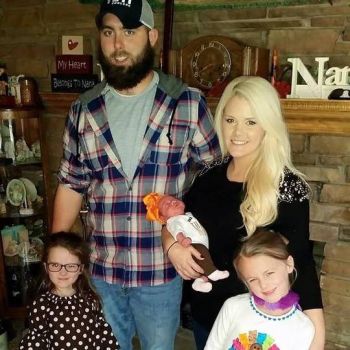 It's been a stressful couple of weeks for Teen Mom 2 star Corey Simms and his wife Miranda, but the couple had a lot to be thankful for yesterday as they celebrated Thanksgiving– their newborn daughter finally came home from the hospital!
The couple was surprised on November 8 when Miranda went into labor, despite being eight weeks from her due date. When Corey and Miranda welcomed their daughter Remington Monroe later that day, she weighed in at 4 lbs. 11 oz. at birth. Baby Remi had been in the NICU (Neonatal Intensive Care Unit) since her birth.
In the last few days, however, Baby Remi was determined to be strong enough to leave the hospital, and was home in time to celebrate her first Thanksgiving with her parents, as well as Corey's twin daughters Ali and Aleeah!
The couple, who recently gained full primary custody of the twins, posed for a family photo with all three of Corey's daughters yesterday. Corey's father, Jeff Simms, later posted a few photos of the Simms family Thanksgiving, one of which showed Ali reading to her tiny little sister Remi.
It appears that the twins also spent some time with their mother, Leah Messer, on Thanksgiving. Leah's sister, Victoria, posted photos of the twins celebrating with the Messer family yesterday.
Things between Leah and Corey are still not good. A recent report stated that Leah believed Corey and Miranda had doctored the twins' school attendance records to make her look like an unfit mother who couldn't get her kids to school on time.
"Leah is convinced Corey and Miranda persuaded a school employee to mark them tardy," a source recently told Radar Online, adding that Corey allegedly has friends in the school's faculty.
The Ashley has been unable to confirm or dispel this rumor. However, The Ashley has heard through the grapevine that it was likely Leah or someone in her family that sold this particular story to Radar. She cannot confirm this, however.
Anyway, Baby Remi is now 19 days old and appears to be doing great. Jeff Simms  recently told a fan on his Instagram that Remi "has some of her mommy's features but I agree she looks like Corey and Aliannah."
(Photo: Facebook)