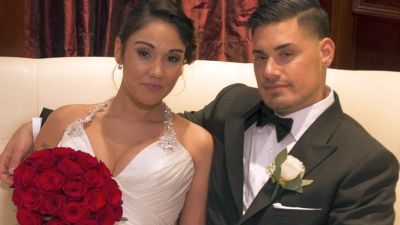 Their relationship is over, but their legal battle wages on!
Married at First Sight Season 2 star Jessica Castro has sued her (almost) ex-husband Ryan De Nino for harassment, stalking and menacing, and A&E, the network behind 'MAFS,' is trying to keep some of the alleged damning evidence against Ryan sealed.
According to the New York Post, court proceedings for the case began last Wednesday, with Jessica claiming that Ryan, who she married on the day she met him, made audible death threats against her during the filming of the 'Married at First Sight' reunion special. Ryan was allegedly heard, via a live mic he was wearing for the taping, stating that Jessica was "f**king dead. When I get back to Brooklyn, she's fu**king dead, this girl."
Jessica's attorney is attempting to get that recording, along with testimony from the show's staff, brought into the case as "essential evidence."
Lawyers for A&E are fighting back, however. The network is attempting to use a shield law that is usually reserved for journalists to keep the unaired footage private. Attorneys for the network claimed in court papers that the unaired footage is "news-gathering material." The state of New York currently recognizes the reporter's privilege shield law, which, in very basic terms, protects reporters from being forced to reveal their sources or the confidential info they obtain during the news-gathering process.
On November 12, A&E lawyer David Sternbach argued in a court filing that forcing the network to submit the unaired footage would "intrude into the editorial process" of the show.
Jessica's attorney, Marc Rapaport, appears to have little use for the show that made his client famous. He described 'Married at First Sight' as "choreographed, contrived vignettes."
It is not yet known if Jessica is also suing A&E.
As The Ashley previously reported, Jessica and Ryan were part of the disastrous second season of the hit reality show. They, along with the other two couples featured on that season, decided to end their arranged marriages in divorce last summer. In June, Jessica filed for a restraining order against Ryan after he allegedly threatened her and her family in March of this year.
"I will break you into f**king pieces," Ryan allegedly told Jessica, according to the petition she filed. "I will break your dad into pieces. I will make your whole family disappear — and your f**king dog-ass sister's boyfriend."
Although the couple stated that they both wanted a divorce, Jessica is apparently still technically married to Ryan. On November 22, a fan asked Jessica on Twitter if her divorce was final yet.
"I freaking WISH!" Jessica replied.
Ryan has not spoken out in regard to the court case or the divorce…yet.
The Ashley will keep you posted on the status of the trial.
(Photo: A&E)