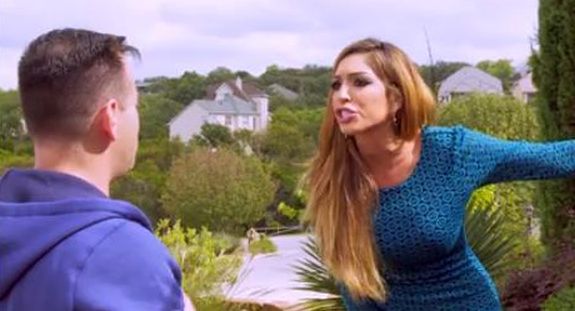 The new Teen Mom OG trailer has just been released by MTV! The Ashley told you months ago that Maci Bookout, Amber Portwood, Farrah Abraham and Catelynn Lowell would be coming back to your TV screens in the form of a new 'OG' season, but MTV only confirmed it last week. Today, the network announced that new episodes (in the form of a Season 5B) will start airing on Monday, January 4!
From what we can gather from watching the first trailer, the upcoming season will be intense. Amber prepares to battle her ex, Gary Shirley, for custody of their daughter, Leah, while Catelynn prepares to marry her looooongtime boyfriend, Tyler Baltierra. (The couple tied the knot back in August with MTV cameras rolling.)
It appears that Catelynn's family is worried about her health.
"Is she going through some kind of post-partum?" Tyler's mother, Kim, asks of Catelynn, who gave birth to daughter Nova in January.
Over in Tennessee, it appears that Maci is making it no secret that she wants to get hitched to boyfriend Taylor McKinney.
"I want to be his wife," Maci says of Taylor. "Make me your wife!"
Meanwhile, things appear to be the same over in FarrahLand. She's still screaming at her mom, Debra Danielson, and everyone is still crying. As The Ashley has previously told you, Farrah is still treating the 'Teen Mom OG' crew like crap.
"I don't need to be part of this trashy ass show anymore!" Farrah is shown screaming at a show producer. "I make millions of dollars doing other s**t!"
Yes….such as this….
Oh, and it appears that Farrah's daughter, Sophia, has picked up some of her mother's bad attitude. In one part of the trailer, she is shown chucking a beach ball at her Grandma's freshly Botoxed face, yelling, "I am mad at you!"
Watch the new trailer below:
Anyway, The Ashley will be recapping the new 'Teen Mom OG' season starting on January 4! To catch up on her recaps of last season's episodes, click here.
To find out what else may be covered in 'Teen Mom OG' Season 5B, click here!
(Photo: MTV)