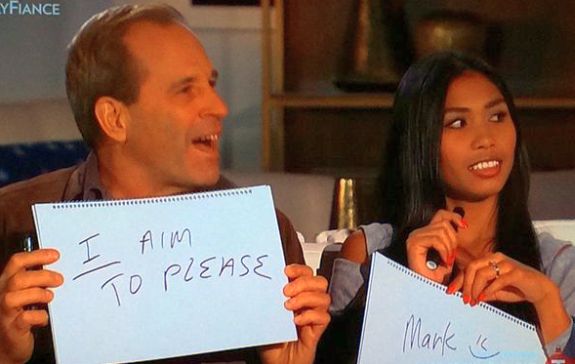 By Holly Rasmussen
Earlier this week, TLC aired the 90 Day Fiancé Tell-All Special, promising viewers a whole heap of new drama, as well as updates on all of the couples. However, this is TLC and we all know that their "Tell All" specials usually tell us very little.
Anyway, this is also the first time that the couples have all met each other. Today Show anchor Erica Hill is moderating this thing and is trying her best to be a serious journalist…who doesn't have to interview a creeper who met his teen bride on Tinder. Let's get into this!
The first order of business to cover is that whole "don't touch my car window" incident involving said creeper (Mark) and said teen bride (Nikki).
If you'll recall, in one episode, Mark yelled at Nikki to touch the window in his car.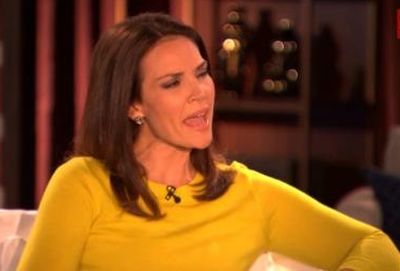 "That was one of the rules with my children," he told her.
Mark said he didn't want Nikki "messing with his happiness," which is, of course, what every newlywed bride wants to hear her husband say. Still, Nikki says Mark is not controlling.
To make the TV viewers extra-uncomfortable, Mark keeps treating Nikki like a child. Every time Erica asks Nikki a question, Mark answers for her. But…he's not controlling. Okay.
Next, Fernando and Carolina take the hot seat. Erica reads a tweet from a fan who asks, "Can someone explain how Fernando gets so much action?"
Whoever tweeted that: Thank you. We have all been thinking that this entire season!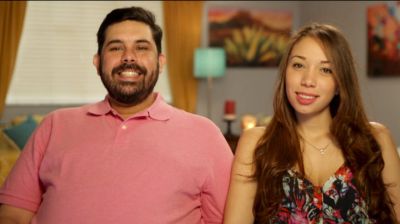 Fernando defends himself by saying it's his charm that gets the ladies.
And…there goes my dinner…
Someone else tweeted in to basically call Mark a creep for dating someone so young. He is quick to defend himself, however.
"These people are condescending," Mark says. "People are calling me a pedophile?! That's ignorance."
He then goes on to insult everyone who comments on the show.
"If you look at the people who comment on these things they usually have five things in common," he says. "They're overweight, they're women, they're alone, and they're jealous…and I don't know what the fifth is."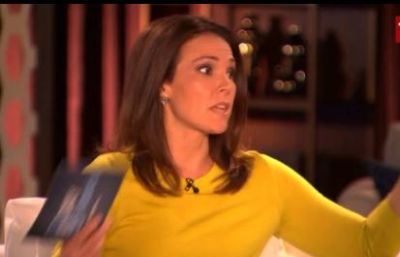 Allow us to help you with number five, Mark: They all hate you!
Meanwhile, Devar is being kind of charming. I actually like him in this more than I thought I would. But let's be honest, we are only watching this for the creepy Mark-isms at this point.
It's time for a flashback! We get to see Melanie's no-nonsense sister Bev, Mark's awesome daughter Elise and Kyle's drunken mom asking if the marriages are real or if they're just for green cards.
Mark says it's "hard for American women to understand" his and Nikki's relationship. Loren rolls her eyes.
"She absolutely loves me physically and mentally," Mark says.
Now that's a mental picture! Gross.
Melanie also says she's never questioned Devar's intentions.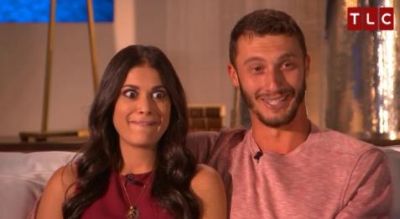 We find out that Loren actually called off her wedding with Alexei before he came to the U.S. He said he had a bachelor party in Israel and when Loren found out there were strippers there she called off the wedding and said she didn't want him to come here…and then she went and did the same thing and had strippers at her party!
Oh, well.  Can we get back to Mark and Nikki now? Can Maury Povich please show up and bring out Mark's first wife!?
Unfortunately, that doesn't happen. We have to instead listen to Melanie and Devar discuss their financial problem. The problem is that Devar has no finances.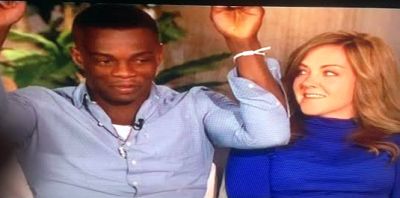 Melanie was mad because Devar said in the season that he would send most of the money he made back to his sisters in Jamaica. He clarified here, however, that he will not do that. He said his family with Melanie comes first.
We finally get back to Mark and Nikki. Mark said when he met Nikki "she fit like a glove."
Barf.
Erica tries to ask Nikki questions about her relationship with Elise, Mark's daughter, but Mark keeps interrupting every single time. We find out that Nikki and Elise have become friends. Thank God. Nikki needs a friend (and a divorce lawyer, hopefully). Mark said when he went to the Philippines he was looking for a younger woman between the ages of 27 and 35. He said he was looking for someone with "less baggage." Is that a code word for a young teen body?
He said he's dated 100 women in the past 20 years that didn't make it past first dates because American women are "too independent."
Oh, I'm sure that's why they didn't want to go on a second date with you, Mark.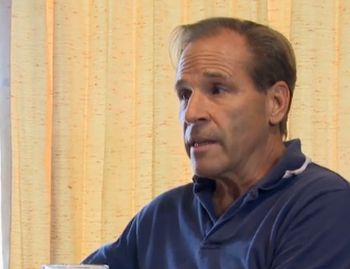 Erica called him out and said he had been in touch with 50 different women in the Philippines before he met Nikki. We then learn that Nikki's parents were upset about the relationship at first and even asked her to move out, but eventually they came around to it.
"Mark and my father they got a man-to-man talk," she said. "My father said to Mark, 'Mark promise me you'll treat Nikki like a daughter.'"
Um…that's not creepy at all.
Nikki says that she's OK with not having kids with Mark, but she's still holding out hope for it.
Next, Kyle and Noon discuss Kyle's drunken mom. Kyle said he's disappointed that he doesn't have a great relationship with his parents, but Noon is his family now and he's happy with that.
Aleksandra and Josh then talk about Aleksandra's conversion to Mormonism. Aleksandra said she was searching for a way to change her life and not be such a "party girl" when she met Josh. She said she found the answer in the Mormon Church. Josh disagrees with her statement that she was a "bad person."
"She was a very kind and caring person; she just didn't believe in God," he said.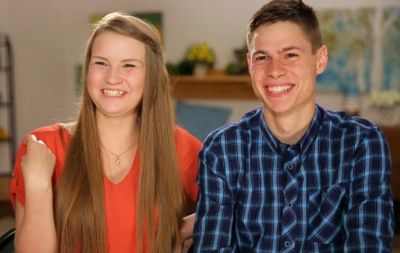 Aleksandra says she's very happy being a Mormon now and that Josh's family totally accepts her and treats her like their own daughter.
Josh discusses the wedding night. He says it was perfect. I wonder if someone had to draw him a diagram of how everything works?
Well, apparently he figured it out because…Aleksandra is already pregnant! Of course she is.
And that's it! Fingers crossed that TLC will do a one-year follow-up specials on these couples…and that Nikki will have to be Skyped in because she's already hightailed it away from Mark and is living happily back in the Philippines!
Also, we learn that '90 Day Fiance' Season 4 will air in 2016, so if you're trying to get your fiancé over here on a K1 Visa, hit them up!
To read more '90 Day Fiance' episode recaps, click here!
(Photos: TLC)