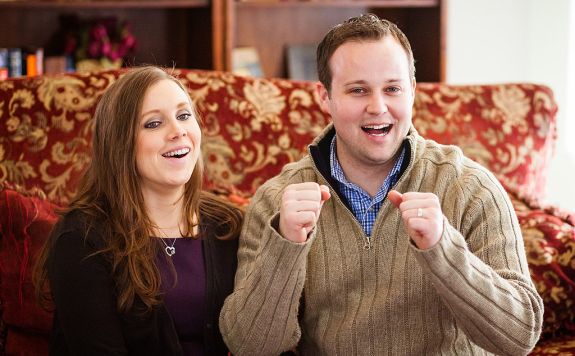 Josh Duggar has been shuttered up in an Illinois rehab facility since word spread this summer that he had been cheating on his wife, Anna, via the website AshleyMadison.com. The disgraced eldest Duggar son, who, before being caught cheating, admitted to molesting five young girls while he was in his teens, will be at the faith-based rehab center for an undetermined period of time, but it appears that he's starting to get some visitors, including his estranged wife Anna!

In Touch Weekly and Entertainment Tonight both report that Anna has made several trips to the rehab center to visit Josh, with the most-recent being yesterday!
"On Tuesday, 27-year-old Anna was spotted in Rockford, Illinois, — where Josh is currently in treatment — presumably visiting her husband without their four kids," ET reported.
In Touch added that this was at least Anna's second visit to see Josh. The magazine reported that Anna also went to the rehab over the Thanksgiving holiday weekend, with their baby Meredith in tow.
"Anna went right before Thanksgiving," the magazine's source revealed. "She had a lot to discuss with Josh. She thought it best that she go alone so she decided not to bring the kids, except Meredith because she is still breastfeeding…Seeing Josh was really hard for Anna. She cried about how much she misses him and teared up while they prayed."
In a few days, Anna (as well as many other members of the Duggar family) will appear on the first of three Jill & Jessa: Counting On specials. In a clip of the specials, released today by Good Morning America, Anna revealed how she felt after finding out that her husband had cheated on her.
"I was just like, 'I'm gonna wake up and everything is going to be OK,'" Anna says. "This can't be true."
The sources for both In Touch and Entertainment Tonight stated that Anna plans to get back together with her cheating husband once he's released from rehab. She is also reportedly planning to use her third (and final) visit to bring the kids to see Josh right before Christmas. (The treatment center allows very limited visitation.)
"She believes everything Josh says," In Touch's source said. "She actually thinks he's getting better."
One sign that Anna and Josh are planning to reconcile? Their family website is back up and running, after being shut down for months.
"Anna is planning on getting back together with Josh, that's just how it goes," the ET source said. "The family was taught to have a new level of forgiveness towards Josh."
Well…not everyone…
Judging from the newly released clip of the specials, Josh's sisters (and former victims) Jessa Seewald and Jill Dillard appear to be angry that their brother made them look foolish when they defended him after the first scandal broke.
"It wasn't right for him to let us speak our words without having the full knowledge of what he was hiding," Jill tells the cameras.
The the first of the three 'Jill & Jessa: Counting On' specials will air on Sunday, December 13 on TLC. The other two specials will air on December 20 and December 27.
Watch the new preview clip below:
(Photos: TLC)