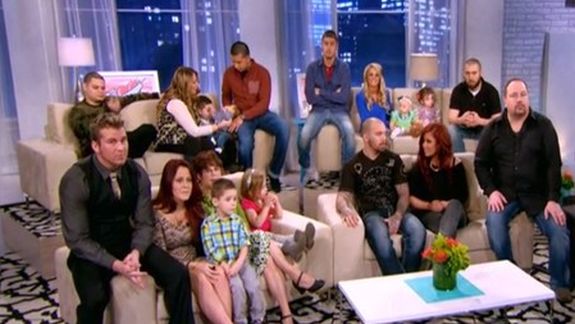 The Ashley does her best to wade through the piles of trash news regarding Teen Mom 2 and its stars but lately there has been an abundance of it! As always, The Ashley holds off on reporting on most stories until she can personally confirm or deny their legitimacy. (Otherwise, she will let y'all know to file it under "rumor.")
A few weeks ago, The Ashley cleared up some of the 'Teen Mom 2' rumors that were floating around, but now it seems that there's a whole new batch of them to sort through. Since most of the rumors being reported about the show aren't actually true, The Ashley will now attempt to clear some of them up for you.
Let's get started!
Rumor #1: Corey and Miranda Simms have quit 'Teen Mom 2.'
FALSE! This rumor started way back in July when OK! magazine reported it. Since that time, it has continued to be reported by various sites as being true. The Ashley can exclusively tell you that this rumor is totally false! The Ashley's source tells her that Corey and Miranda have not quit the show, nor did they ever. They will, indeed, be on the upcoming new season of 'Teen Mom 2' and are filming for it.
However, it is true that the Simms do not like filming the show.
"Right now they can't really quit, but they would surely like to leave behind all the drama that the show brings," The Ashley source tells her.
Rumor #2: Jeremy Calvert quit 'Teen Mom 2.'
FALSE! Jeremy is still involved in 'Teen Mom 2.' Since he is the father of one of Leah's daughters, he still has a reason to be on the show. In fact, The Ashley hears that Jeremy will be filming with MTV sometimes this week for the upcoming season.
Rumor #3: Jenelle Evans quit 'Teen Mom 2.'
UNCONFIRMED– SORTA….
Jenelle started this rumor herself when she declared on Twitter a few days ago that she was "done with" 'Teen Mom 2' because the producers had allowed her ex, Nathan Griffith, and his new girlfriend to film for the new season. She followed it up with a tweet that insisted that she really was done with the show. (She has since deleted all of these tweets.)
Here's what The Ashley knows so far about this…
First of all, The Ashley reached out to Jenelle's manager, Johnny Donovan, for confirmation that Jenelle has, indeed, quit the show. He responded that, "We are not talking about this."
Hmmm…
The Ashley then reached out to one of her show sources with a wealth of knowledge about how the girls' contracts work. That source confirmed that Jenelle has been filming for the upcoming season for a while now. The source added that there's nothing Jenelle could do to have that footage canned.
She has already signed the contract for the new season. However, the source said that Jenelle can refuse to stop filming from this point on.
"[MTV] isn't going to make her keep doing the show," the source told The Ashley. "They would continue without her. Legally, anyone can leave at any time. But nobody will because  of the money."
The Ashley's source told her that if Jenelle quit mid-season, she would definitely not get her full season's salary, and possibly not be paid at all. (The source wasn't totally sure on this, as none of the girls have ever actually quit mid-season so MTV has never had to deal with this.)
The source did tell The Ashley that this is likely just a ploy by Jenelle to get Nathan off the show, and possibly get more money from MTV. However, the source believes that MTV will not comply with either of Jenelle's demands.
"She's not going to get a raise," the source said. "That's not how it works."
Rumor #4: Leah Messer and Jeremy Calvert are back together.
FALSE! This rumor began circulating by a weird site that Jenelle Evans promotes. After Leah and Jeremy attended her daughter Ali's chorus performance together, this rumor picked up some steam.
The Ashley can confirm that this rumor is totally false. Leah is not back with Jeremy. He attended the performance to exchange custody of Addy with Leah and stayed to watch Ali sing. Leah is currently involved with T.R. Dues and has been for months. She is not dating Jeremy. Rest assured that Jeremy's little torn piece of paper name badge thing will still identify him as "Leah's Ex-Husband" when the new season starts!
Rumor #5: Leah Messer is living with T.R. Dues.
TRUE! In fact, from what The Ashley can tell, the couple has lived together for most of the time they've been dating. (The Ashley first told you they were living together this spring.) Many fans refused to believe that Leah was already living with a guy, since she denied that she was dating anyone back when she filmed the Season 6 reunion in July. The Ashley recently told you that Leah's family considers T.R. and his two sons "like family" already. If you need even more proof, click here and here. Leah and T.R. both recently posted Facebook photos of the Christmas tree in their home and–surprise!–it's the exact same true and living room.
Given that they've been living together for months now, it will be nearly impossible for MTV to edit T.R. out of the next season like they did last season. However, those 'Teen Mom' editors are pretty much wizards– they can make almost anyone "disappear" from a girl's life!
If you have a 'Teen Mom 2' rumor you'd like The Ashley to look into, tweet it to her over on The Twitter, or leave it in the comments below!
(Photo: MTV)