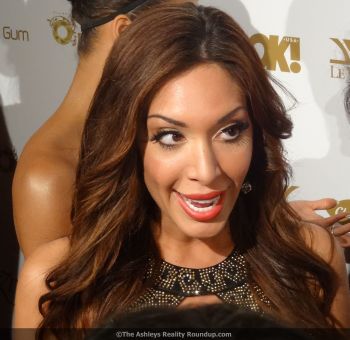 UPDATE: The Ashley's source tells her that Farrah did, indeed, show up to film the Reunion Special on Saturday.
The four girls of Teen Mom OG are in New York City today– but only three of them are currently at MTV headquarters filming promos and the after-show footage for the upcoming new season of the show. A very good source tells The Ashley that one girl, Farrah Abraham, was mysteriously absent from filming today.
"The whispers around here are that Farrah quit the show, supposedly," the source told The Ashley. 
It is not known if Farrah got the OK from MTV to no-show, or if her absence was unexpected by the production staff.
Farrah is currently in New York City; however she did not come to MTV studios to film with Maci Bookout, Catelynn Lowell and Amber Portwood. She is hosting a Christmas party tonight in town, but it doesn't appear that any of her co-stars got an invite.
"Farrah's in NYC but isn't part of the filming of the after shows," the source told The Ashley. "The rumor is that she's mad about the stuff that was shown in the trailer that made her look bad."
You may remember that in the recently released trailer, Farrah is shown screaming at the show's executive producer, Larry Musnick, telling him that she doesn't need to be a part of this "trashy ass show" any longer.
Please note that, at this time, The Ashley is not confirming that Farrah quit 'Teen Mom OG.' She can simply tell you that Farrah was absent from the (usually required) after-show filming. The only other time an original 'Teen Mom' girl missed an after-show taping was in 2011, when Amber was unable to attend due to legal issues.
Farrah may also be upset that her cast mates excluded her from a book-signing event that will be held tonight in New York City. Maci, Amber, Catelynn, Tyler Baltierra and Teen Mom 2 star Kail Lowry will all be attending a book signing at the FIT Bookstore tonight, where they will all be promoting their books. Farrah,who has several books on the market, was not included in the event.
The Ashley will update this post when she gets more info! Stay tuned!