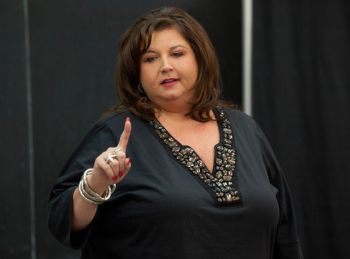 By Holly Rasmussen
Controversial Dance Moms star Abby Lee Miller says she refused to continue filming parts of the upcoming sixth season of her reality show after the show's producers allegedly came up with a plotline that even Abby deemed inappropriate. (You know things are getting out of control when Abby Lee Miller is the voice of reason!)
In her recent Dance Moms newsletter, the infamous dance teacher claims that a producer for the show came to her and pitched the idea of having one of Abby's young dancers perform with a fake pregnancy belly.
Yes, you read that correctly.
Abby claims that the producers (allegedly) wanted a young preteen girl to perform ballet posing as a pregnant teen, but she immediately shut that idea down. Abby explained that she had had it with the "cockamamie" ideas of her show's producers.
"If I've gone missing from a few episodes in Season Six, don't believe anything anybody says…when a grown man tells me he wants one of my kids to portray a pregnant teen and wear a baby bump-I have to put my foot down," Abby wrote. "If that means not moving my foot and not working and getting fined in the process, well that's a risk I'm willing to take to protect my girls. I am always teaching principles, integrity and values in addition to dance technique. It is important for me that the girls learn to stand up and fight for what they believe in!"
While that may be the song that Abby's singing now, she's made some very controversial decisions regarding her young dancers in the past. Who could forget the young girls wearing nude bodysuits for the showgirls routine? Or when poor Nia was forced to portray an African stereotype in her routine?
Of course, Abby may have a hard time convincing her fans that she's the epitome of integrity. After all, she is currently in the middle of a legal nightmare in which she is accused of allegedly hiding over $755,000 from the IRS.
Abby's lawyers appeared in court this week to ask for more time regarding that trial.
With so much drama going on in Abby's life, is it possible that the producers could replace her as star of the show? After all, she's the one who always tells the girls, "Everyone is replaceable."
(Photo: Lifetime)