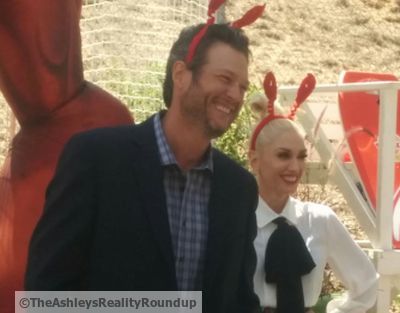 Gwen Stefani and Blake Shelton will end their on-air flirt-fest tonight as Season 9 of The Voice comes to a close. The couple, who officially began dating in October, have been using the show's live tapings to spend time together and hang out, but now that the season is ending (and Christina Aguilera will be filling Gwen's chair next season), what are the chances that Gwen and Blake will be able to make their romance last?
Not bad, according to pop culture fanatics like on this site, who have calculated the likelihood of a celebrity couple actually staying together.
In regard to "Shelfani" (yes, people actually call Blake and Gwen that), the site stated that there's only a 5-to-1 chance Blake and Gwen will split in 2016. These "experts" stated that if Gwen and Blake do break up, it will likely be because of how quickly they got together after splitting with their respective spouses.
"The couple's high-profile relationship has Gwen feeling exposed so soon after her divorce from Gavin Rossdale," writer Rose T. stated. "Let's not forget that they are both on the rebound, and we all know how those tend to end."
This summer, Gwen and Gavin split, as did Blake and Miranda Lambert.
Anyway, Blake seems to be aware that his relationship with Gwen may change once they aren't on set together anymore. During a recent interview with Extra, Blake expressed his desire for Gwen to stay on as a 'Voice' judge.
"I don't want Gwen to not be on the show," Blake said during the interview. "Why can't we have a fifth coach?"
When asked which fellow coach she'd miss the most, Gwen coyly responded, "I wonder…" before adding that she's "devastated" that she won't get to be around Blake, Adam Levine and Pharrell Williams several times a week.
Blake and Gwen have been making the most out of the time they have left as co-stars, though. They were recently photographed smoochin' at a restaurant down the street from the studio where they film 'The Voice.' (The photos are incredibly adorable, with Blake photographed kissing Gwen's forehead.)
The Ashley will be at 'The Voice' finale tonight and will be reporting on all of Gwen and Blake's interactions! Stay tuned!