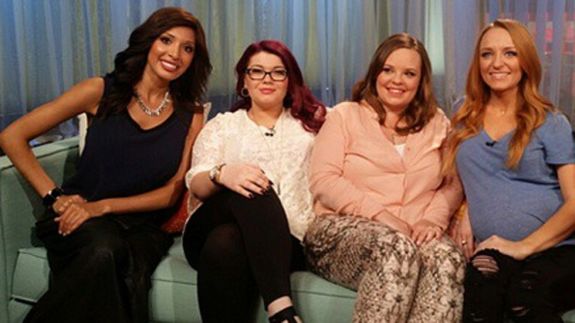 The girls of Teen Mom OG were in New York City this past weekend to film footage for promos and the After-Shows. As The Ashley told you last week, Farrah Abraham was a no-show on Friday, when the other girls were busy filming and doing promotional work for the upcoming new season. However, Farrah missing the day of work on Friday was nothing compared to all of the drama that happened on Saturday during the actual After-Show taping!

Here's what went on behind-the-scenes of the 'Teen Mom OG' After-Show taping, according to The Ashley's show sources….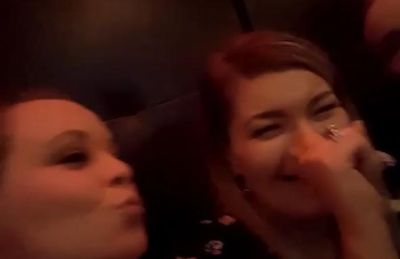 The 'OGs' partied hard the night before the filming and needed medical attention.
Three of the 'OG' girls– Maci Bookout, Catelynn Lowell and Amber Portwood–hosted a book-signing event on Friday night (along with 'Teen Mom 2' star Kail Lowry). After the book signing, the girls hit the town– hard. According to one on-set production source, the gals showed up to the set on Saturday morning feeling very hungover.
To help them recover faster and be camera-ready for Saturday's taping, MTV called in a company that gives a hangover therapy via IVs, similar to this company. The girls received an infusion of vitamins to help them kick their hangovers.
Keep in mind that all of the girls are well over the age of 21, so they did nothing illegal. The Ashley just thought this was a juicy little nugget to include. She's not judging anyone for having fun.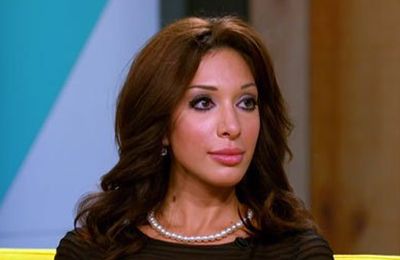 Farrah did film…but was very un-Farrah-like.
Although Farrah didn't come to work on Friday, she did manage to make it for the After-Show taping on Saturday. However, an on-set source tells The Ashley that Farrah was "very withdrawn and quiet."
Farrah didn't stay on set very long. The Ashley's sources tell her that Farrah only filmed one segment in front of the live audience. (She may have filmed on her own without the other girls or audience; The Ashley can't be sure on that.) One source says that Farrah filmed a scene in which she discussed visiting the grave of Sophia's late father, Derek Underwood. 

"She got really emotional during that part," the  on-set source tells The Ashley. "She kept to herself pretty much. The other girls were nice to her."
At one point, Farrah was on stage with the other three girls, the source said.
"Farrah was crying and Catelynn gave her a hug and Amber held her hand," the source added. "You could tell that even Maci felt bad for her."
After filming that scene, Farrah left the set and didn't come back. An audience member tells The Ashley that they were told that Farrah "had to catch a flight." The Ashley is not sure if Farrah actually walked off set, or if her early exit was planned ahead of time.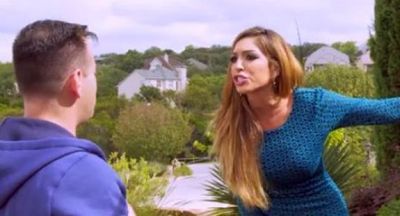 Farrah's argument with Producer Larry was much worse than is shown in the trailer…
According to one source, we only saw a little part of Farrah's big fight with 'Teen Mom OG' producer Larry Musnik. In the trailer, Farrah can be seen screaming at Larry that she doesn't "need to be part of this trashy ass show anymore!"
After Farrah left the set, the audience at the After Show taping was allegedly shown a more extended clip that was even more disturbing.
"In the clip we watched, Farrah physically pushed Larry in her front yard," an audience member told The Ashley. "She called him white trash and all these other mean names. They showed us the clip after Farrah left. It was almost like they did that on purpose."
One of The Ashley's other sources provided more insight as to what caused the giant blow-up.
"The reason Farrah was fighting with the producers in that clip was because she didn't want to film," the source said. "Larry the producer said she was at breach of contract because she was filming a show with her mom Debra that's similar to 'Teen Mom.' That's what started Farrah off on her rant."
(Please note: The Ashley has not seen the extended clip, so she can not confirm that Farrah pushed Larry. However, it appears that it will be included in the upcoming season.)
Apparently, Farrah and Larry have made up since that scene was filmed, however. They were seen hanging out together at the Viacom Christmas party, held this weekend in New York.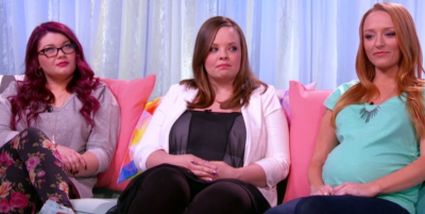 Maci, Amber and Catelynn are tired of Farrah getting special treatment.
The Ashley's sources say that Farrah's 'Teen Mom OG' co-stars were appalled after watching the clip of Farrah and Larry.
"Catelynn, especially, seemed angry about Farrah's behavior," the audience member said. "She said that Farrah is so nasty to everyone, and that Farrah gets special treatment that the others don't."
The on-set source claims that, even for the After Show taping, the girls had to wait on Farrah to film.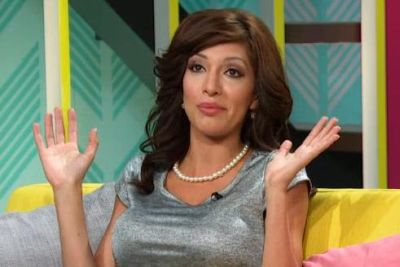 Marriage was mentioned…
Amber discussed her upcoming wedding to Matt Baier, but Maci (whom fans have suspected is engaged to longtime beau Taylor McKinney), never mentioned marriage at the taping. In fact, she wasn't wearing a ring at all (unlike in recent snaps where she had a ring on her left hand.)
Farrah, who's back together with boyfriend Simon Saran, did mention marriage.
"She said that she didn't plan to get married," the source said. "She did say she wants to adopt a child, though."
The Ashley will be releasing even more juicy 'Teen Mom OG' news this week, so stay tuned!
Media outlets must link back and credit The Ashley's Reality Roundup.com for this exclusive.
(Photos: MTV, Instagram)