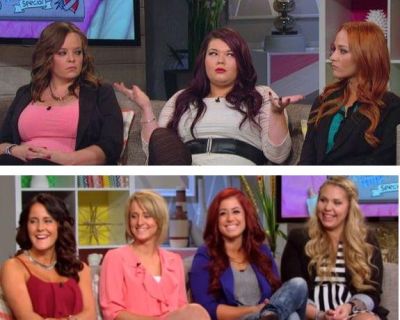 It's time for another installment of The Ashley's rumor breakdown! Each week, The Ashley wades through the muck of Teen Mom-related stories that are floating around the Internet and separates the true from the false. For this installment, The Ashley will also tackle a few Teen Mom OG rumors that are circulating, rather than just her usual Teen Mom 2 regiment. 

As faithful readers know, The Ashley holds off on reporting on most stories until she can personally confirm or deny their legitimacy. (Otherwise, she will let y'all know to file it under "rumor.")
Let's get started….
Rumor #1: Kail Lowry's husband, Javi Marroquin, is about to be deployed.
TRUE! Radar Online broke the story today that Kail's husband Javi, who is on active duty in the Air Force, will be deploying soon. Fans were skeptical to believe the story, but The Ashley can confirm that the story is very true. Kail and Javi are, indeed, preparing for Javi's deployment, and have not been able to tell anyone when and where Javi will be. The Ashley can confirm that his deployment will be less than a year.
Oh and…they are still not divorcing, despite what other media outlets are saying.
Rumor #2: Leah Messer has a court date to fight for custody of her twin daughters.
TRUE! Radar Online also broke the story that Leah has secured a court date to fight for custody of Ali and Aleeah, the six-year-old twin daughters she recently lost primary custody of. The Ashley can confirm that this is true. Leah and her ex, Corey Simms, do indeed have a court date scheduled in January for their custody agreement to be reviewed.
"Leah is thrilled she got a court date," an insider told Radar. "She's been waiting for this opportunity for months."
Leah has been posting about the twins to her private Facebook lately. She recently posted that, "Mommy will never give up!"
Rumor #3: Amber Portwood's fiance, Matt Baier, actually has SEVEN kids.
TRUE! The Ashley already cleared up this rumor for y'all. Click here to read all the dirt on Matt's litter of kids, ex-wives and grandkids.
Rumor #4: Amber Portwood has regained 50/50 custody of her daughter Leah.
FALSE– kind of! Stay tuned– The Ashley will be posting more about this very soon. 
Rumor #5: Leah Messer's new boyfriend is unhappy that Leah is spending time with her ex, Jeremy Calvert.
TRUE! While Leah and Jeremy are not getting back together, she has been spending time with him lately, and her current beau, T.R. Dues is not happy about it. Leah and Jeremy have been trying to effectively co-parent their daughter, Addy, which means they have been interacting a lot. T.R. recently became unhappy after he found out that Leah had agreed to have dinner with Jeremy to discuss something regarding Addy. (The Ashley believes this dinner was a set-up for 'Teen Mom 2' to be filmed, but she can't confirm that.)
TR was unhappy about the meeting, and let his Facebook friends know. (He later erased the posts.) Click here to read them.
"Those posts were totally about Leah," The Ashley's source says. "He was pissed!"
To read which 'Teen Mom 2' rumors The Ashley cleared up last week, click here!
(Photos: MTV)