By Holly Rasmussen
Another day, another feud involving Farrah Abraham! The Teen Mom: OG star is once again in an argument with her cast mates via social media.
It all started on Snapchat…which is essentially the MySpace of today. As The Ashley previously reported the 'Teen Mom OG' gals were in town to film the Season 5B After-Show and decided to do a book-signing with Teen Mom 2 star Kail Lowry afterward. (Farrah was not invited, naturally.)
After work, Catelynn Lowell, Maci Bookout, Amber Portwood and Kail went out and proceeded to party hard. In a Snapchat posted by Kail from that night, Catelynn can be heard making a toast to Farrah.
"To Farrah, that f*cking hoebag. Amen to that bitch!" Catelynn says, which led to the group cheering. (As The Ashley reported, Farrah allegedly made the weekend of filming difficult for her cast mates and the 'Teen Mom' crew, which may have been one of the reasons Cate made the impromptu toast.)
Farrah was livid when she found out about the Snapchat. Naturally, she took to Twitter, Instagram and any other social media outlet she could think of to respond to what Catelynn had said.
"I wouldn't want this recorded either Maci, Amber, Kailyn," she captioned a repost of the Snapchat video. Farrah then called the other girls pathetic parents and trash in the hashtags.
Amber wasn't letting it slide, however. She responded to Farrah via Twitter.
"One person said something…what a weird ass way to react. Lol. And obviously we didn't care if it was record," she tweeted.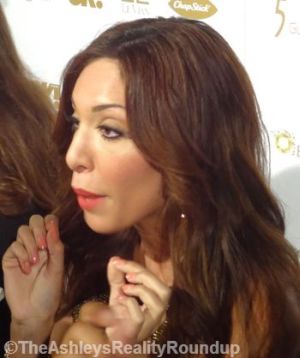 Catelynn also responded to Farrah's tweets.
"Trash? Pathetic parents? ROFL. It's called one night out!" Catelynn wrote, before taking a jab at Farrah for being away from her daughter Sophia all the time. "Some like to be gone for months at a time. The last thing I'll say on the subject. U can't be 'busted' if u aren't afraid 2 be caught or trying to hide what you think!"
Never one to let anything go, Farrah retweeted a fan that said the other 'Teen Mom' girls were just jealous of Farrah.
"Farrah you are further in life than any of them and that's why they are so mean to you."
Um… does Farrah really have any room to be calling anyone else mean? After all, she's seen verbally attacking a 'Teen Mom' producer in the trailer for the upcoming season.
Anyway, Farrah continued the feud on Instagram.
"You're welcome Loser's I work with, for the money I allow you and your kids to get-this is why your #fake #trash #patheticparents," she captioned a photo of her cast mates. (Of course she wrote "Busted, Disgusted & Never to be Trusted" across their faces.)
Farrah claims the other girls are riding her coattails and without her there wouldn't even be a 'Teen Mom: OG.'
After the Twitter spat, Kail spoke to Real Mr. Housewife about how she inadvertently caused a new feud…or fed the flames of an old one, anyway.
"I'm sorry the video was posted," she said. "I never meant to cause a feud."
Kail said she has never trashed-talked Farrah for doing p*rn.
"Farrah has done p*rn and anytime someone has asked me to comment, I say whatever works for her and pays her bills."
Kail said she thinks Farrah crossed a line when she called the other girls pathetic parents.
"What was said was said, but there's no reason to bring parenting into it," she said. "To call anyone a pathetic parent is a low blow."
Speaking of low blows, Farrah later retweeted a fan's message to her that was less-than-kind to the other girls.
"Shouldn't they be more focused on divorce, rehab and staying out of the trailer park?!" the fan wrote, obviously poking fun at the divorce rumors surrounding Kail, Amber's past drug problems and Catelynn's former housing situation.
By Saturday, yet another person had added their two cents to the feud. Farrah's dad, Michael Abraham, wrote a lengthy post on his Facebook that condemned the other girls for saying mean things about his daughter.
"It's so sad that people that I prayed for, worked with their families, and cried for because of their challenges over the years …have to be so cruel and hateful to my family," Michael wrote. "It sounds like it's the same ones from last season….And now the world can see (and hear) what we have had to put up with from people we thought were friends and shared more than commonalities …. We shared our stories together with the world… But now the world really can see the truth behind the lies….shame on you!"
All we need is Tyler's dad, Butch Baltierra, to jump into the spat now! Stay tuned!
Watch the now-infamous Snapchat video below: