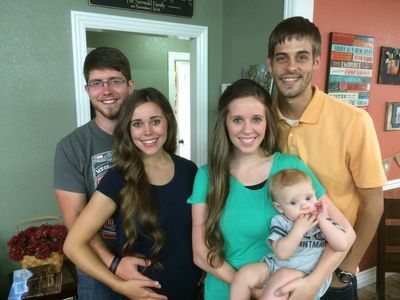 The year 2015 was quite the roller coaster for the Duggar family. They saw the ratings for their reality show 19 Kids and Counting soar at the beginning of the year, only to have the show cancelled later in the year after the whole "Our son Josh molested people" fiasco came to light. In December, however, the Duggars (sans Josh) made their way back to our TVs with three TLC specials entitled Jill & Jessa: Counting On.

If the ratings for the specials indicate anything, it's that America still cares about the Duggar family. In fact, all three special received relatively high ratings (especially the third installment, which showcased Jessa grunting out her first kid). While TLC has not confirmed that the Duggars will be back on the network in 2016, the ratings are pointing in that direction.
According to the Nielson Company, the premiere episode of 'Jill & Jessa' on Sunday, December 13 garnered a rating of 0.8. (This indicates how many target viewers, aged 18-49, tuned in.) Over 2.2 million people watched the first episode of 'Jill & Jessa.'
The second episode also did well, with a rating of 0.7 and a viewership of nearly 1.9 million.
The most successful episode was the the third, with over 2.5 million people tuning in to watch Jessa give birth to The Spurge. The episode, which received a rating of 0.8, ranked in the Top 5 cable shows for the night.
(To put this in perspective, ABC's Shark Tank ranked a 0.5 that night, and had 1.91 million viewers.)
While it is very unlikely that TLC will bring back '19 Kids and Counting,' it seemed that the network was "testing the waters" by airing these specials, to determine if viewers were still interested in seeing the Duggars on their TVs. The answer is "yes!"
The Ashley has reached out to TLC for more information on the fate of 'Jill & Jessa' and will update this post when new info becomes available.
(Photo: TLC)