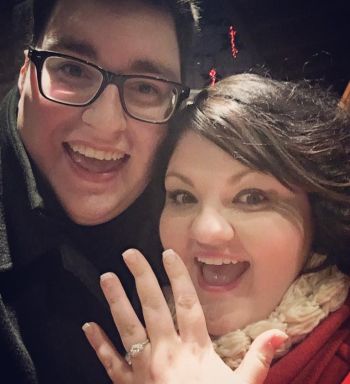 It's been an exciting couple of weeks for Jordan Smith: he became the champion of The Voice and snagged himself a fiance!
The Season 9 winner announced yesterday that he had proposed to his longtime girlfriend, Kristen Denny, on New Year's Day.
To announce the big news, Jordan posted a photo of himself with Kristen to his social media accounts yesterday, along with the caption, "RINGING in the new year with my future wife! She said YES! #Mr&MrsSmith"
In the photo, an excited Kristen showed off her big sparkling engagement ring. On her own Instagram account, Kristen posted a photo of her ring, along with the caption, "Wow! Yesterday was absolute perfection! Thanks for all the well wishes and sweet messages! I am incredibly blessed and I can't wait to marry my best friend!"
The couple has been together over three years, and Kristen was a huge supporter of Jordan during his time on 'The Voice.' After his big win, Jordan gushed to the media about his girlfriend.
"[She has] been through it all with me and has been such a big support and foundation. To have her with me was so special," Jordan said.
Jordan and Kristen, both of whom hail from Kentucky, have not yet announced when or where they plan to get married.
(Photo: Instagram)