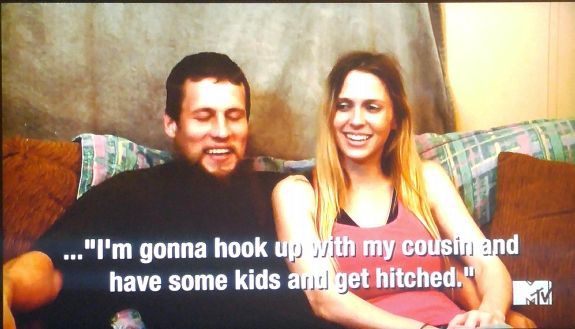 The Ashley doesn't normally recap MTV's True Life; however, when she saw that this week's episode was entitled "I Had My Cousin's Baby," The Ashley knew that this recap had to happen. Surely whatever characters we are about to meet will be the cream of the crop of humanity. It's as if the reality gods gifted this episode to The Ashley personally! Anyway, we meet two women who are with their cousins, romantically. (As you do). The first girl we meet is Alexis, a 20-year-old from South Carolina who is six months pregnant with her cousin's baby. While being impregnated and in love with a family member can be stressful, that's not the only thing that poor Alexis has to worry about these days. In addition, her cousin/baby-daddy—a fine specimen of a man named Andrew—is currently in jail, and Alexis is currently broke and can't raise enough money to bail her dreamboat of a man out.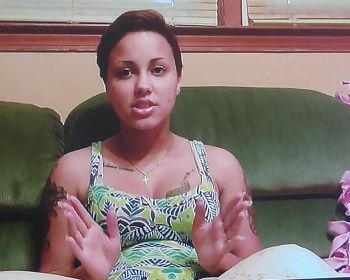 Dontcha just hate when that happens!? While Alexis and Andrew see nothing wrong with their relationship, some members of their family just aren't OK with the whole "kissing cousins" thing. Alexis, being broke, needs her family's help in getting bail money, so she has to sit through their lectures about how wrong it is to date your cousin. "If everyone can just put everything aside and chip in a lil' bit," Alexis says at the beginning of her pitch to squeeze money from her family. One family member cuts her off immediately stating, "I told ya straight up- y'all got the same grandma!" Well—look on the bright side—Alexis and Andrew will only have to buy one "Grandma" corsage for their wedding, should they ever actually get married! We also get to meet Grace, who has already done married her cousin, Dylan! He's quite the catch: he's got a long scraggly beard that hangs to his chest and is shown sporting his finest baggy, stained T-shirt. ("This is my TV-appearin' shirt, y'all!)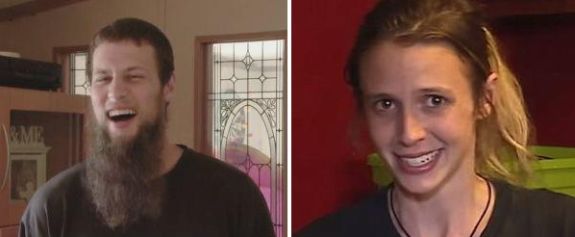 While it's hard to imagine that anyone would blame Grace for wanting to be with Dylan, their families…er, family…is against their being together. In an effort to escape their family's negative comments, Grace, Dylan and kids are planning to move across the country from their family. Yes, kids, they are leaving the darkened walls and stained curtains of their doublewide and heading to Los Angeles, where they hope the people will be more accepting of their backwoods lifestyle. Before they head for California, however, Grace wants to try one last-ditch effort to get their family's blessing for their relationship.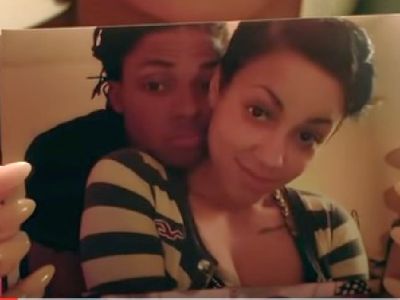 We catch back up with Alexis, who tells her friend that she's disappointed that Andrew may not be able to attend the baby's birth, what with those pesky jail charges and all. Alexis already has a son (of course) with another dude, who has since split. I'll give you a moment to recover from the shock of that…. Anyway, after Alexis' first baby-daddy left her, Andrew starting hanging out with her more and more and she realized that she had some very un-cousinly feelings for him. This, of course, did not set well with their family. As expected, Andrew is an outstanding pillar of his community. He has been locked up for over five months on burglary charges. His going to jail meant Alexis lost her house and their cars, and everything. Still, Alexis is determined to marry her thug-of-a-cousin, despite the hardships they are facing. "It's really hard to plan a wedding when the other person is in jail," she declares. This is true. It's hard to have a romantic wedding night when your groom-to-be is going to have to be shackled to a prison guard. "This whole situation is really sucky," Alexis wails.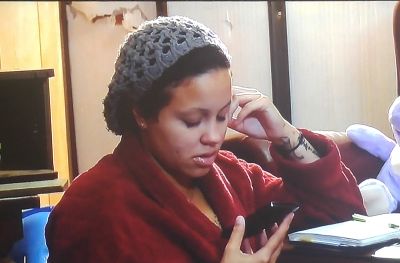 Um…then probably don't get pregnant by dudes that break into places and try to steal stuff that doesn't belong to them. Anyway, since Alexis (shockingly) doesn't appear to have a job, she has to beg her/Andrew's relatives for money so that she can bail out her Prince Charming. She slings on her furry bathrobe and starts blowing up everyone's phone, trying to get donations to free Andrew. Unfortunately, none of the relatives want to part with their hard-earned money. Most of them don't approve of Andrew and Alexis being together, so they are reluctant to help them out. Since Andrew is currently incarcerated, his brother "Fern" is stepping up to help Alexis. We don't know if "stepping up" also includes a few romps on the dirty mattress at Alexis' house, however. (Hey—Fern is her cousin too!) He comes by the place that Alexis is currently living, which looks like some sort of beat-up campground or something. She's hoping Fern will give her some money to spring Andrew. They need about $3,500 to pay Andrew's bond.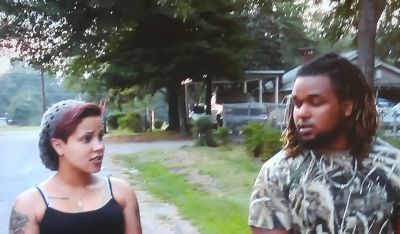 "I'm tryin' to figure out who's all gonna help!" Alexis tells Fern. Fern commits himself to helping pay the bond. After all, he's got "this new job." Alexis hopes that Fern will deliver the finances needed to get Andrew out of the clink in time to see his baby spring from her loins. Later, Alexis calls up Andrew's public defender to get the scoop on Andrew's upcoming hearing. The public defender delivers the news that Andrew's hearing was postponed and won't take place for at least another month, meaning that ol' Andy will be stuck behind bars until that time. Alexis is devastated and angry. How dare all those legal eagles not consider her feelings when they made the decision to cancel the hearing! Don't they realize that in a few weeks, she's going to grunt out her cousin's baby?!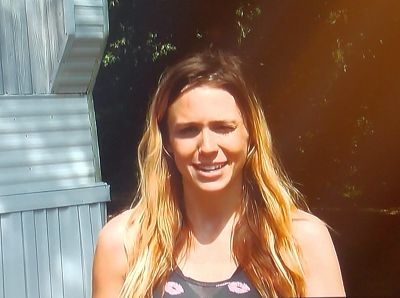 Meanwhile, back in Tennessee, there are naked youngins running all over their trailer, but Grace and Dylan take the time to tell us about their relationship. Grace tells us that she's been pumping out her cousin's spawn for the last three or so years, and things are going great. We then learn some family background on the couple. Apparently, their relationship is not as creepy as say, Alexis and Andrew's, because Grace and Dylan didn't know each other at all growing up. They never even met, not even when all the family went down to the local holler for a family reunion! Eventually they did meet and got married. (Dylan wore his finest white T-shirt for the occasion, naturally.) Most of their family members refused to come to the wedding, as they were all protesting the marriage. Grace's mom and stepdad did attend, however. Grace's brother is very against her relationship with Dylan. He was especially worried that Grace and Dylan could end up having children with problems, due to their being cousins. Grace assures us that she and Dylan took precautions against that, however. "We went to that—I don't know what it's called—like your family tree person," she tells us. "A geologist. We went to a geologist." Hopefully the geologist was able to identify what type of rock these people's brains are made of.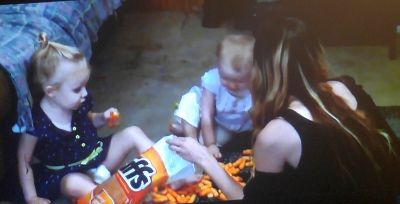 Later, Grace spreads out some orange cheese puffs on the filthy carpet of the trailer for her daughters to shovel into their mouths. (As you do.) This is just the appetizer, of course, as Dylan is bringing home a "Hot and Ready" from the Little Ceaser's for a pizza feast! Over their pizza meal, Grace and Dylan talk about how great it will be to move somewhere that no one knows that they are cousins. Back in South Carolina, things are not going so well for Alexis. Her father is refusing her to walk her down the aisle if she marries Andrew. Still, he comes to visit Alexis and her daughter. They call him "GrandDude." (Uh-oh! Someone obviously has been watching a little too much Kendra On Top!) GrandDude looks to be in his early thirties, is dressed all in white and is full of zingers.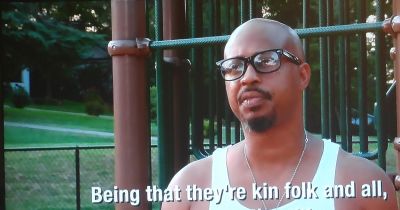 Alexis explains that she and Andrew are planning on getting married as soon as Andrew is out of jail, and that she really needs her father to walk her down the aisle. GrandDude isnt' having it, though. "You know y'all are kinfolk," he tells her. "Baby gonna be confused anyway." Well…maybe Alexis can take the baby to one of them "geologists" that Grace and Dylan went to? Somehow, GrandDude agrees to stand by his daughter. He is still confused about her relationship with Andrew.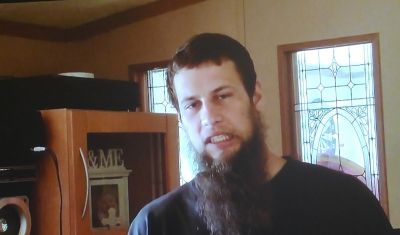 In Tennessee, Grace is packing up the doublewide for the big move. She knows that leaving Tennessee will mean cutting off all communication with all of her family except her mother. Later, Grace's mom tells her that Grace's niece's birthday party is happening that day. Of course, Grace and her kids weren't invited, due to the family disapproving of her marriage to Dylan. Grace is hurt that she wasn't invited, and hurt that her mother kept the party a secret for so long. An hour later, Grace decides to take matters into her own hands! She and the girls whip out the Crayolas and start making a birthday card for her niece, deciding that they are going to the party, uninvited.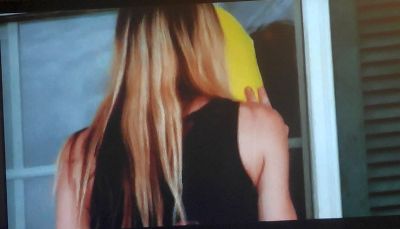 They head over to the party, nervous that they will be rejected by Grace's siblings who don't approve of her habit of making babies with her cousin. They arrive at the house, and can hear the screams of happy children (whose parents are not related) in the background. Even though they can hear the party going on, no one answers the door. Grace puts the card to the window in an attempt to show whoever's inside that they did, at least, bring a card. It's actually really sad. Since no one will open the door for them, Grace and her family leave the card on the doorstep and go back home. The scene is really heartbreaking. Two days later, the packing continues, and the couple is selling almost everything they own because they need money for the move. They write out a budget on some notebook paper, budgeting $800 for rent. In Los Angeles. Near the Hollywood sign.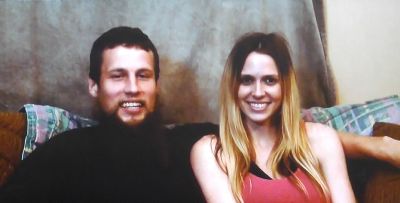 Someone please help these people. For $800 a month you can probably secure a nice cardboard box in the most shady part of Hollywood. Of all the places to move, why would they pick Los Angeles, which has some of the highest rent in the country?! "I mean…you don't wanna go down there without a plan," Dylan advises. Meanwhile, Grace is calling a grocery store in LA to find out how much it will cost to feed her babies. The grocery guy tells her it's about $3.50 for eggs there. "For some eggs?!" Dylan says in disbelief. "I might just buy a chicken and take it with me!" Oh sweet baby Jesus…. Back in South Carolina, Fern is about to drop a bombshell on Alexis.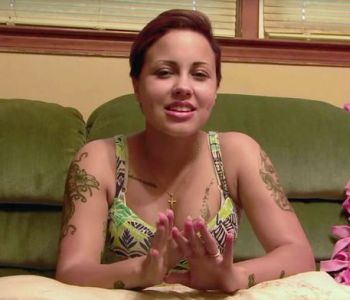 He tells her a girl that Andrew had been seeing before he started dating Alexis is claiming to have messed around with Andrew. "While we was together?!" Alexis cries. "While you was together," Fern confirms. Alexis is shocked. Here she is making cold calls in her bathrobe, trying to raise money to free Andrew, when he has been keeping this secret from her! She realizes that even if she and Andrew break up, she'll still have to see him because they are in the same family. Well, that and the fact that she is carrying his spawn in her womb. "Andrew has betrayed me in the most way that you can betray somebody," Alexis tells Fern. She declares that if it turns out that Andrew did cheat, she's done with him. Ol' Fern might be looking pretty good to Alexis right about now! Naturally, she heads to church to resolve her anger. She's actually wearing a "I Love My Church" T-shirt during the scene in which she discusses how she hopes God will tell her whether or not she should marry the cousin she's having an illegitimate child with. Just gonna let that one marinate for a sec… Before she can go into the church, however, Andrew calls from the pen. Alexis decides to bring up what Fern told her about Andrew messing around with another girl while he was with Alexis. Andrew, of course, denies everything.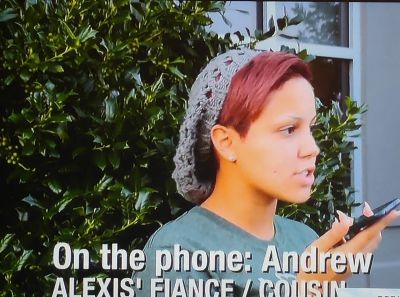 "That girl, you know, she lyin!" he proclaims. "I swear on my child she lyin'!" Andrew promises that he plans to take a lie detector test when he finally gets out of jail. What's that? Did you guys hear that noise? I think that was the sound of Maury Povich picking up the phone to call these knuckleheads to get them on his show! I would like to know how the hell Andrew plans to pay for a lie detector test to prove to his cousin/baby-momma that he wasn't messin' with no hoes, without the intervention of one Mr. Maury Povich? This dude can't even pay his own bond, let alone be able to afford a lie detector test. Good Lord. Anyway, Alexis is not sure what to believe now.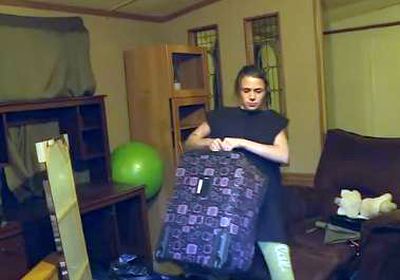 In Tennessee, it's moving day for Grace and Dylan! They've rented a U-Haul trailer and loaded it up with everything they own—all of the kid's toys, Cheese Puffs and old T-shirts are packed up. Grace is sad that none of her siblings came over to say goodbye to her. Dylan announces that they have exactly $1,000 saved up for their trip across country. They finally close up the doublewide and drive off to their new future in California. Unfortunately, they don't exactly make it to California. Their car breaks down right outside of Phoenix, Arizona, forcing them to hole up in a hotel until they can figure out what to do. The breakdown was costly—after paying for the towing, a taxi and the hotel, Dylan and Grace are out about $175. Soon, they get more bad news. The mechanic tells Grace that her car is basically a trash heap, and there's no hope that it can be fixed. Still, Grace refuses to crawl back to Tennessee and deal with her negative family again. Grace actually comes up with a good plan. She trades the U-Haul trailer in for a truck so they can once again be mobile. They continue on the road to California, with their trashed car trailing behind them.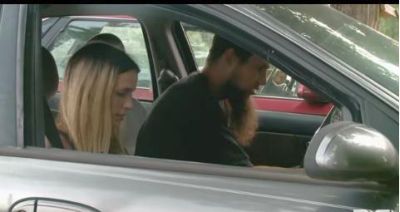 They arrive in LA, looking like the Beverly Hillbillies (in South Central). Grace is running around barefoot and the kids are shirtless and crying. They have no money, yet they picked one of the most expensive places in the country to move to. Sounds like a solid plan, y'all! They are unable to find a hotel that has availability for less than $45 a night. They can't even afford a hotel in South Central LA. They realize that they're going to have to pawn a TV to be able to afford a hotel room for the week. It's nighttime, and the family still has nowhere to sleep. They have the babies sitting out on the sidewalk, wearing nothing but a diaper. I'm not a moving expert but…shouldn't they have booked a hotel before leaving for Cal-i-for-nia? Back in South Carolina, Alexis is getting an ultrasound to see her baby girl.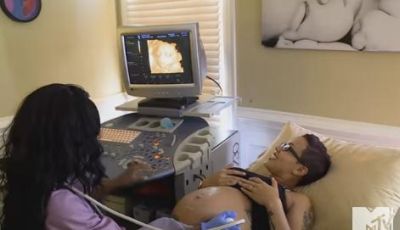 "Aww, she's got all of her fingers and toes!" Alexis exclaims. "Did you think she wouldn't?" the ultrasound tech jokes. Well…the parents are cousins… Alexis is happy that she has her ultrasound photos to whip out whenever anyone has anything to say about her and Andrew having a baby with problems, due to their being related. Alexis tells the tech that she wishes that Andrew could be there to see the baby. "Oh is he working?" the tech asks. HA! HA! HA!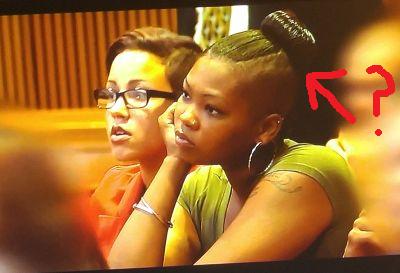 Two weeks later, Alexis heads to the courthouse with her friend and Andrew's friend Tony to see if her baby-daddy is gonna get sprung from the clink. Daddy Dearest appears in his orange-suited glory, in front of the judge, and Alexis is nervous. They wheel out the victims of Andrew's crimes. "I'm irritated," Alexis tells us. "I mean, I know he took things from their house, I'm not condoning that, but they're materialistic things." SERIOUSLY?! I can't… (In case you are wondering what ol' Andy did to get locked up, he broke into three places–a home, a garage and a storage facility—and stole everything from vehicles to electronics. The brainiac then tried to pawn some of the stolen goods, which led to his arrest. This was, of course, not the first time he was in trouble with the law.)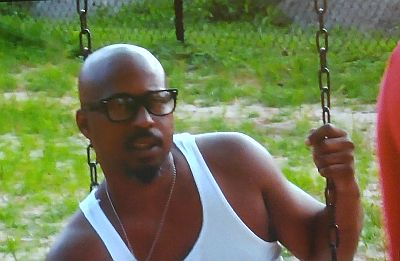 Alexis thinks that even though Andrew stole things from these poor people, he should be let go because he's going to be a father. Um…just because he impregnated his cousin doesn't mean he deserves a "get out of jail free" pass, honey! How about this: DON'T TAKE THINGS from people who earned them, and then you can watch all the cousins you want to impregnate give birth to your children. The judge denies Andrew the chance at bond and Alexis is shocked to find out that Andrew will have to go back to jail for six more months. She's upset that the baby will be about five months old before Andrew even gets another chance at a bond.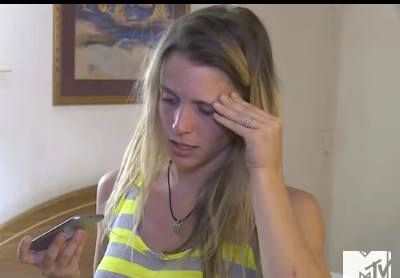 It's time to wrap this trainwreck of an episode up. We start in LA, where Grace and Dylan are at the beach. Despite their hardships in LA, they are still happy that they moved to California. Unfortunately, their happiness didn't last long. Two weeks later, Dylan and Grace ran out of money and had to go back home to Tennessee, where their family still hates them. Meanwhile, Alexis has squatted out her baby. "Look, she's got her eyeballs open!" Alexis exclaims as she shows her daughter the baby. She names the baby Genesis and the baby is very healthy.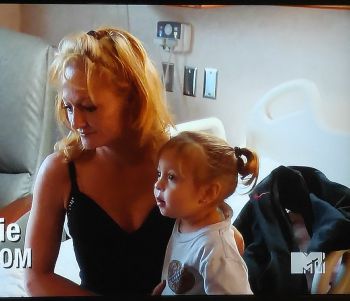 Alexis' mother, who looks like a 40-year-old trashier version of Teen Mom star Maci Bookout, comes to see the baby, even though she disapproves of Alexis being with Andrew. They load up the baby, and Alexis and the baby are picked up by Fern. Alexis isn't sure she wants to bring a newborn to the jail to see Andrew. Andrew finally calls to see how his daughter is doing, and demands Alexis send him pictures. The call cuts off before Alexis can finish her conversation. Alexis vows to focus on her children instead of focusing on Andrew. Later we find out that Andrew received a six-year sentence for his crimes, leaving Alexis to raise her two children alone. MTV—can we please turn this episode into a full-time series?! COME ON! To read recaps of other reality TV shows, click here! (Photos: MTV)