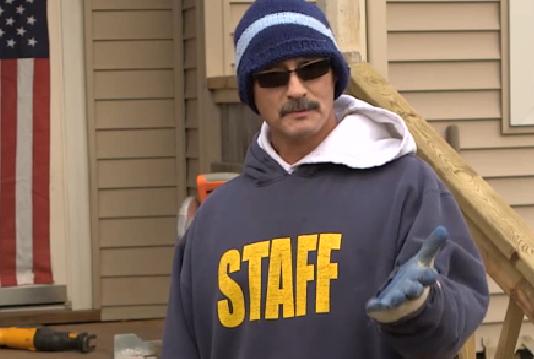 Sometimes The Ashley just loves MTV…
A few months ago, those clever minds behind the Teen Mom franchise put together "Babs Breaks It Down," a mini web series in which the amazing Barbara Evans discussed various topics. At the time, The Ashley wished that her other favorite 'Teen Mom' franchise star, Butch Baltierra, would someday get his turn in the online spotlight…
Well, kids, the reality TV gods have answered The Ashley's prayers!
In the first (and hopefully not last!) installment of "Butch Breaks It Down," Tyler Baltierra's fresh-from-the-clink father, Butch, gives his opinion on a popular topic—'Teen Mom' star Farrah Abraham. In the video, Butch discusses Farrah's plastic surgery, as well as her assorted sex toys and ventures.
"Farrah when she first started was a very pretty girl," Butch tells us as he repairs a stairway rail. "Then she got all this stuff done to her and, for me, personally, she kind of ruined [her looks]."
Although Farrah has taken a lot of flak from the public and her 'Teen Mom' co-stars for her sex toy line (which includes, but is not limited to, a horrific blow up Farrah doll with um, holes and a mold of her own baby chute and backdoor), Butch is all for it!
"For her to make sex toys, I think is a smart business move," he says. "Brilliant! People can think what they want but, you know me, as long as the bank account keeps swelling up, I'm OK with it!"
In fact, Butch (jokes?) that he may even take a page out of Farrah's business playbook.
"It gives me some ideas!" he says.
Of course, he feels that he can only say this because he is not actually related to Farrah (or her backdoor).
"If Farrah was my daughter, I'd lay into her," he tells us. "I made you. You're gonna go out there and get all freaky like that for the world to see? People are gonna look at me some kind of way, you know what I mean? In hindsight, I would tell her it was a good business move, but at first I would have to cuss her out."
As you do.
Please pray to the reality gods that MTV makes "Butch Breaks It Down" into a weekly web-series! We'd all love to hear his thoughts on the national deficit and global warming…and, of course, Farrah's musical offerings, which were released while Butch was behind bars.
Keep 'em coming, Butchy!
Watch the full video below:
(Photo: MTV)