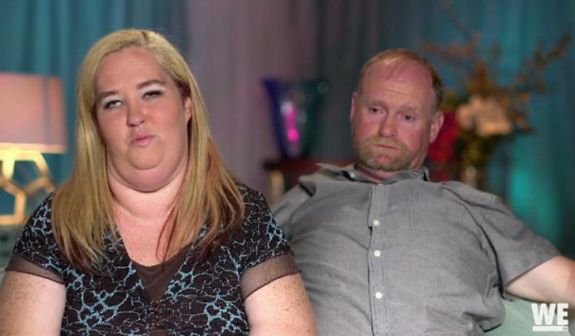 Does Sugar Bear Thompson swing both ways? That's what his common-law wife, Mama June Shannon is alleging in a sneak peek clip of this week's episode of Marriage Boot Camp: Reality Stars.
In the exclusive clip, released by People magazine today, Mama June states that she may have proof that Sugar Bear cheated on her…and who he may have strayed with is even more shocking.
"The text messages that I have are from men and women," Mama June tells her housemates, Sean and Catherine Lowe. "I want him to be fully honest and I don't feel in my gut that he's fully honest."
Mama June and Sugar Bear, who share daughter Alana (aka Honey Boo Boo), have had a tumultuous relationship in recent years. The couple held a commitment ceremony in May 2013, although they never actually legally married. They split in September 2014, right before it was revealed that Mama June was allegedly seeing Mark McDaniel, the man who was convicted of molesting her daughter, Anna.
Anyway, the couple has been giving their relationship another try on 'Marriage Boot Camp.'
"We came here for the truth!" Mama June yells at Sugar Bear in the clip. "Sugar Bear, I feel like, in my heart, there is maybe more that you're not being honest with me about."
"I know what I've done," The Bear replies. "There is no more!"
Just as Mama June brings up the whole "you've been texting men" thing, the clip cuts out.
This is not the first time that Mama June has accused her man of being gay. In June, Life & Style reported that Mama June had accused Sugar Bear of having nude pics of men and texts from male prostitutes on his phone. Radar Online responded to the magazine's claims with an interview with Sugar Bear's brother, Lee (aka Uncle Poodle), who claimed that Mama June was lying and trying to cause drama. (Her allegations came about the same time she and the Bear were taping 'Marriage Boot Camp.')
"He is not gay….It's all for show and money," Uncle Poodle told Radar.
More of Mama June's conversation about Sugar Bear's sexuality will be revealed on this week's episode of 'Marriage Boot Camp.'
To read our recaps of previous episodes, click here!
(Photo: WEtv,)