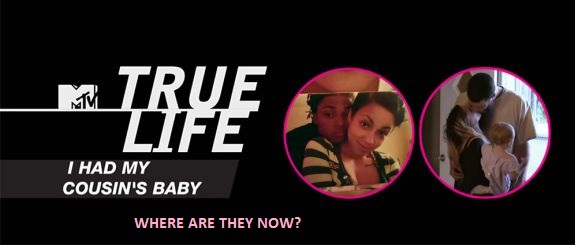 Earlier this week, The Ashley recapped what she feels was the best episode of MTV's True Life ever. The episode, entitled "I Had My Cousin's Baby," followed two couples (well, one-and-a-half couples, actually, since one of the guys was in jail throughout the whole episode and couldn't really participate). The couples are cousins in love. The episode was quite the treat, and The Ashley suggests you read her recap of it, if you haven't already.
Anyway, the episode was filmed throughout the summer and fall of 2015, and, although MTV gave us a two-sentence update on the couples at the end of the episode, The Ashley was eager to know what has happened to these kissin' cousins since we last saw them…
You may be surprised by what The Ashley found…
Alexis & Andrew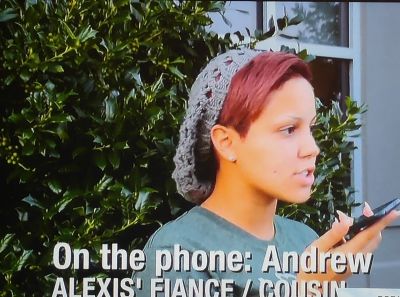 Then: 
When we last saw Alexis, she had just given birth to her cousin Andrew's baby. Andrew, of course, was locked up on burglary charges and was awaiting trial for his crimes. She had few people who were supporting her in her relationship with her cousin. We only saw Andrew's brother, Fern, as well as his friend, Tony, approve of the relationship during the episode.
Now:
On New Year's Eve, MTV.com posted a follow-up interview with Alexis to see what has happened since her episode was filmed. While that interview had some interesting updates, it actually only told some of the story of what Alexis has been up to.
Alexis told MTV that she and Andrew are no longer together, and that they broke up right after she gave birth to their daughter.
"It just wasn't going anywhere, and I was getting more and more irritated each time I talked to him," she said. "He's still my cousin though!"
Thank you, Captain Obvious.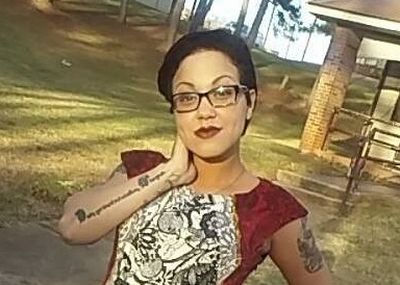 Anyway, Alexis also revealed that Andrew is still in jail. In mid-December, he was sentenced to six years in prison. According to court records found by The Ashley, it will be at least two years before Andrew has a chance to get out of prison.
But Alexis isn't sitting at home, waiting for Andrew to get released! She told MTV that Tony (Andrew's friend) was living with her and her kids.
"I don't have to worry about having somewhere to stay because I have my own apartment now," Alexis said. "Tony is living in the apartment with me and the kids. We split the bills, but he recently had to quit his job because it was too far away. He's currently looking for another job."
She kind of left out the fact that she and unemployed Tony are now romantically involved! A look at Alexis' and Tony's Facebook pages reveal that they are in a relationship together, and have been for a while.
Let this be a lesson, kiddies: If you burgle, you could get sent to prison for six years and your best friend could steal your fiance!
Anyway, it seems that Alexis' family is thrilled that they no longer have kissing cousins in their family.
"My relationship with "MY" side of the family has gotten much better because they're happy that Andrew and I broke up and that there's basically no chance we'll get back together," she told MTV. "Andrew's side of the family and I are on okay terms but we haven't really been speaking as much because they're so upset about Andrew's sentence."
Her daughter is doing well, however. Alexis posted an update on the baby, along with a message to all the haters who questioned whether the baby would be born healthy, due to having parents that are first cousins.
"For everyone concerned about the mental health of my daughter, she is perfectly fine," Alexis wrote on her Facebook page. "Lol ignorance is bliss. Having a child with a cousin and the child having a mentally disability is a myth."
Just gonna leave it at that…
Then:
On the episode we also met Grace and Dylan, cousins from Tennessee who are married and the parents of two little girls. According to Grace, their family members (except for her mom and stepdad) have completed shunned her and Dylan for getting married and having children together.
To escape the shunning, Dylan and Grace load up all of their belongings, as well as their youngins, and head west to California. Since the couple doesn't appear to have a plan once they get to Los Angeles, they struggled to find somewhere to stay and, according to the post-episode update, were forced to move back to Tennessee after two weeks in LA.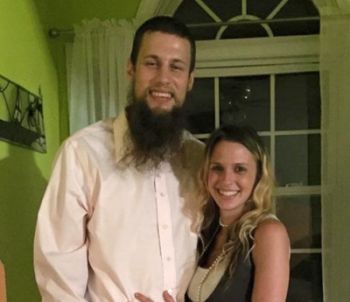 Now:
The Ashley had to do some intense sleuthing to find an update on these country bumpkin cousins, but she finally found some very interesting stuff in regard to Grace and Dylan and their episode.
According to Facebook posts made by Grace's mother and stepfather earlier this week, important facts were omitted from the episode. Grace and Dylan are indeed cousins who had children together, but they have not been shunned by their families, according to Grace's mother.
"They only told the viewers what would get them to watch and talk about later," Grace's mom commented on Facebook in defense of her daughter. "They have been [accepted] by the family and the grandbabies are loved deeply…. They did move back to TN and spent Christmas with both families which they always have done."
The Ashley investigated and, while looking through family photos posted onto Facebook, Grace, Dylan and their girls are, indeed, pictured at events such as birthday parties and Christmas gatherings. Grace's family even threw baby showers for her when she was pregnant with her daughters.
The Ashley also found out that Grace and Dylan are not first cousins like Alexis and Andrew are. Dylan and Grace are, in fact, third cousins, which is why it was legal for them to get married. (Just for the record, it's legal to marry your first cousin in the state of Tennessee, as well as in many other states.)
During the episode, Grace, Dylan and their kids show up to a family party that they were not invited to. When they arrive, their family refuses to open the door for them. According to Grace's stepfather, that wasn't exactly the case.
"That was not even the brother's house they showed," he wrote on Facebook, adding that no one has excluded Grace and Dylan. "They were all together for Christmas."
According to Grace's mother and stepfather, Grace and Dylan did have a reason for choosing to go to Los Angeles. Although it seemed to be a random (and stupid) choice for them to try to move to the very expensive Los Angeles, they went because they believed that Dylan had a job lined up there.
"They moved to CA because he had a job there and once he got there it fell through," Grace's mom explained. "Something 'True Life' didn't tell you."
Grace's mother and stepfather both wrote that Grace and Dylan were so nervous as to how they would be portrayed on the episode that they allegedly went through procedures to get MTV to not air the episode. Grace's mother wrote that by doing so, the couple forfeited the money they were to receive from MTV for doing the show.
"They had even signed papers with 'True Life' before they came home to not air the show because of the way the show was gonna turn out," Grace's mom wrote. "So they did not receive a penny for it…. They had signed papers to cancel it. And [MTV] went ahead and aired it."
Grace's stepdad claimed on Facebook that the couple was supposed to get about $2,000 for doing the episode.
Luckily, however, Grace and Dylan are doing much better now than when we last saw them, living in a filthy trailer before moving to California and living in a motel.
"[Dylan] has got him a great job," Grace's mother wrote. "They found them a super nice townhome to live and the babies are loved greatly."
For more of The Ashley's reality TV "Where Are They Now?" posts, click here!
(Photos: MTV, Facebook)