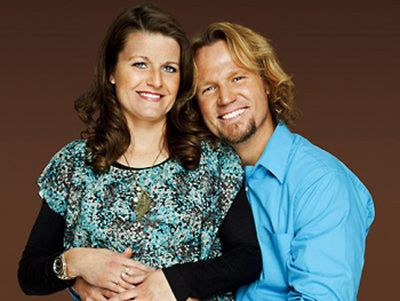 Kody Brown has added another child to his collection of offspring!
The Sister Wives patriarch and his fourth (and now legal) wife, Robyn, welcomed a baby girl last night at their home in Las Vegas. The baby girl, who weighed in at a whopping 9 lbs., 9 oz., is the couple's second child together. Kody has 16 other children with his three other wives, and Robyn has three older children whom Kody adopted during the last season of 'Sister Wives.'
Robyn revealed to People that she and Kody have yet to decide on a name for the baby. (This means that The Ashley's suggestion of "Kodette" is still on the table?)
"Right now we haven't decided on a name," Robyn told the magazine. "We have been searching for the right one for months, but nothing has felt right. We are just getting to know her now and waiting until she whispers it in our ear."
People also reported that the baby was delivered by a midwife with Robyn's parents in the room. (There was no mention if any of Kody's other wives–Christine, Janelle and Meri–were there to witness the birth.)
Kody has yet to mention his newest child's birth on his social media accounts. Robyn's sister wives have also remained silent on social media on the baby girl's arrival. The family has met the baby, though, according to Robyn.
"'Baby Sister' is already opening her eyes and seems to love listening to all the voices of her big family talk around her," she told People. ""It was such a beautiful moment when the family was all gathered together to meet our newest sweet addition!"
It's likely that the baby's birth was filmed for an episode of 'Sister Wives.' The show is expected to return to the air with new episodes sometime in 2016, although TLC has not yet released a premiere date.
TLC has posted additional photos of the new baby. Click here to view them!
UPDATE: Robyn and Kody have announced that their daughter has been officially named! TLC announced on Saturday that the baby will be called Ariella Mae Brown. She joins sisters Aurora and Brianna and brothers Dayton and Solomon.