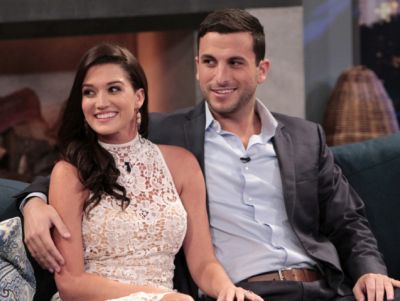 UPDATE: According to Us Weekly, Jade and Tanner's wedding special will air on Valentine's Day (February 14)! And, of course, Chris Harrison will be officiating the ceremony.
Get ready for another made-for-TV Bachelor wedding!
Jade Roper and Tanner Tolbert, who met on the tear- and alcohol-soaked beaches of Bachelor in Paradise, have announced that they will be getting married very soon– on TV, of course!
The couple, who became engaged at the end of this summer's season of 'BIP,' took to Jade's official website last night to announce that they had somehow figured out a way to get ABC to agree to pay for their wedding. (After all, the network already paid for Jade's $88k engagement ring!)
"So so excited we were able to announce @tanner_tolbert and I are getting married VERY soon!" Jade wrote. "We are honored to be able to share this moment with you on TV on ABC!"
Wanna see their registry? Of course you do! (They still need four ice tea spoons…for $8 each!)
Jade posted that she and Tanner put a down payment on some land on January 10. They plan to have their home built there.
Jade and Tanner will be the second couple to get married after meeting on 'Bachelor in Paradise.' During Season 1, Lacy Faddoul and Marcus Grodd met on the show and got engaged during the finale. They married last summer, and had a portion of their wedding shown during 'BIP' Season 2. (It's been rumored, however, that there may be trouble in, um, paradise for these two. Lacy and Marcus have mysteriously stopped posting photos of each other on social media, and haven't been spotted together in public in a long time…)
Anyway, as far as Jade and Tanner go, ABC has not yet informed fans if their wedding will be live (a la Sean Lowe and Catherine Giudici), or if it will be taped and shown at a later time.
Let's just hope they don't do that horrid "honeymoon suite cam" thing again. That was just embarrassing, guys…
(Photo: ABC)