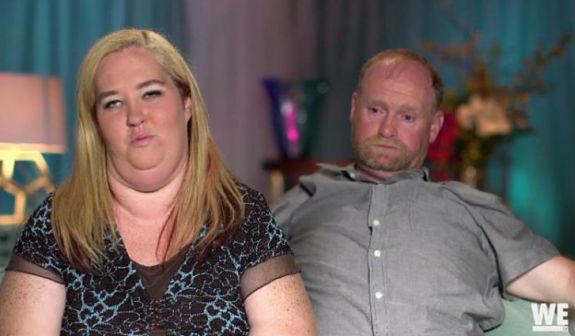 Mama June Shannon suspected that her common-law husband Sugar Bear Thompson swung both ways sexually, and it appears her suspicions were correct.
In a new clip of the upcoming episode of Marriage Boot Camp: Reality Stars, Sugar Bear confesses that he has had trysts with men in the past. The confession took place during what Sugar Bear thought was a private conversation with June, but, as we know, nothing is private when you're on a reality show!
"Can I tell you something?" Sugar Bear says in the clip, which was obtained by People. "Don't bring this up with nobody else 'cause I don't want this out there: I have experimented with guys."
Sugar Bear, who had initially denied that he had ever been with a man, opened up to June about his experimentation. He told June that hooking up with men "[was] not my cup of tea."
"It's just something I was curious about, experimented with it, and it's over with and done with, and that's it. [It] won't ever happen again," he says in a later interview.
Sugar Bear, who is the father of June's daughter Alana (aka Honey Boo Boo), initially denied that he had ever been with a man. In the clip, June calls him out for continuously lying to her about his sexuality.
"But I don't want everyone to know that lie," Sugar Bear tells June.
Oops….