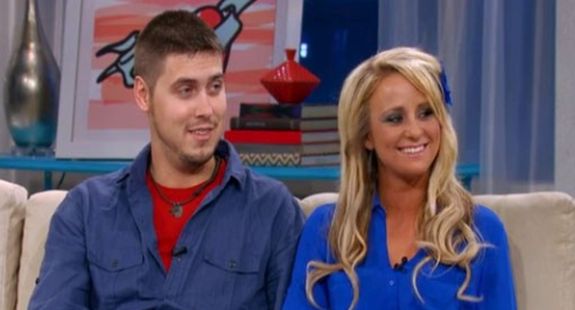 Are the banjos in the backwoods of West Virginia once again playing a love song for Teen Mom 2 stars Leah Messer and Jeremy Calvert?
Earlier this week, Radar Online posted a story stating that Leah and Jeremy are getting back together, and that Leah was caught by her boyfriend, T.R. Dues, having a steamy text exchange with Jeremy. The site reports that T.R. saw texts in which Leah told Jeremy that she loved him, and that Jeremy and Leah have been texting each other "non-stop."
While this story may make fans who are still holding out hope for a Leah/Jeremy reunion feel happy, The Ashley can confirm that it is completely untrue– and The Ashley has all the real details of the 'Teen Mom 2′ stars' love lives!According to The Ashley's sources, the story is totally fabricated. Jeremy is not back with Leah, nor does he have any interest in reuniting with his ex-wife.
"There's no way in hell Jeremy wants to be back with Leah," the source tells The Ashley exclusively. "They rarely text, and when they do it's only about Addie. As far as them calling each other 'baby' and all that, it's completely untrue."
Jeremy has another reason for wanting to stay as far away from his ex-wife as possible: He is back together with his girlfriend, Brooke Wehr!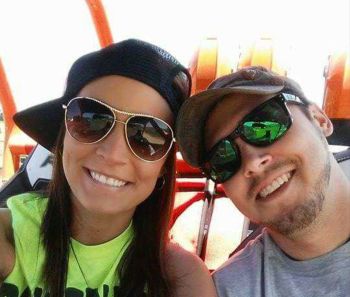 "They split for a little while but are back together right now and going strong," The Ashley's source reports. "Brooke is really different from Leah and Jeremy is really happy with her. They have a lot of fun together."
Jeremy and Brooke will be able to spend a lot more time together now, since Jeremy recently took a different position at work.
"He's still working in the pipe lining business, but this position means less traveling for Jeremy, which is good for his relationship with Brooke," the source tells The Ashley. "It will also give Jeremy a lot more time with his daughter."
The source added that Jeremy and Brooke are taking things slow.
"They're in no rush to live together or anything like that," the source said. "They both have daughters, so they want to make sure that they are going to last before they move in together and get the kids involved."
The source tells The Ashley that Jeremy realizes now that his relationship with Leah progressed way too fast, and he's trying to be more mature in his decision-making in terms of his relationship with Brooke.
As far as Leah goes, The Ashley is told that she is still dating T.R., despite the reports that they had split. The Ashley can also confirm that T.R. and Jeremy do not get along at all.
"T.R. despises Jeremy," a second source said.
T.R.'s ex, Mandy Winnell, is not so fond of Leah either.
While The Ashley is not sure if T.R. will appear on the upcoming seventh season of 'Teen Mom 2,' she can confirm that Jeremy continues to film for the show. Brooke may be making an appearance next season as well.
UPDATE: T.R. also disputed the story about him looking through Leah's phone and finding texts from Jeremy. He took to Twitter to sound off.
"I don't know where you get your Information but you need better sources," he wrote. "I don't look through phones I'm barely around her smh."
(Photo: MTV)