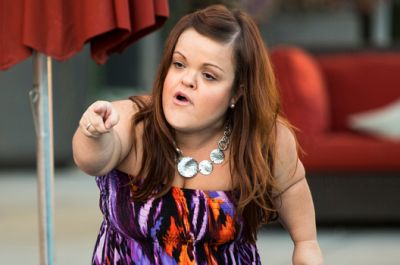 Little Women: LA star Christy McGinity Gibels is fighting mad that a brawl with co-star Terra Jole left her with head injuries– and now she's seeking legal justice!
As The Ashley previously reported, Christy and Terra allegedly got into a physical altercation last weekend while filming scenes for an upcoming episode of 'Little Women: LA.' Christy says that she was hospitalized after Terra threw a glass at her head, which left her with brutal headaches and several concussions.
Christy updated her Twitter followers last night to let them know that she is home from the hospital. Now that she's home, Christy is determined that Terra pay for what she did. According to TMZ, Christy filed a police report against Terra on Tuesday evening.
In her report, which was filed with the Los Angeles County Sheriff's Department, Christy states that the incident should be classified as "assault with a deadly weapon."
Since the incident took place in a bar in Thousand Oaks, California, which is in Ventura County, the police report will be sent there for further investigation.
"Investigators will decide if anyone should be arrested," TMZ reported.
Terra has not yet spoken out about the incident. The Ashley has reached out to Christy and a Lifetime network rep for comment, and will update this story when more information is available.
(Photo: Lifetime)