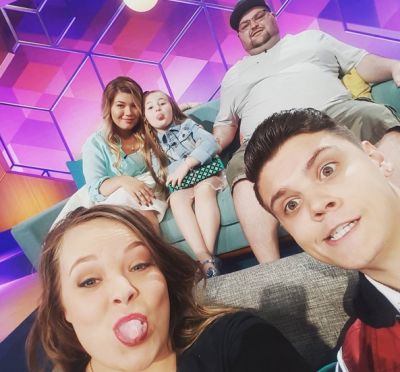 The entire cast of Teen Mom OG took Los Angeles by storm this weekend! The moms, their current and former beaus, kids and other assorted family members who were mooching a free trip, all headed to California to film the Season 5B reunion special.
This reunion marked the first time that Catelynn Lowell, Amber Portwood and Maci Bookout were face-to-face with Farrah Abraham since their epic online feud (which will be now be known as "SnapchatGate") last month. While the reunions are usually a time for the girls to catfight, this particular reunion taping was different, according to The Ashley's on-set source.
"Farrah was pretty mellow behind the scenes," the source tells The Ashley. "She actually was talking to Gary Shirley [whom she has feuded with in the past] and his wife Kristina. They were getting along well. Farrah and Amber were hanging out too. They used to hate each other but at this point Amber just doesn't care what Farrah does. She just wants to avoid drama."
This reunion was the first for several cast members, including Gary and Kristina's baby daughter Emilee (who, like all of the show's kids, got a whole bunch of toys and treats from MTV). It was also the first time Kristina went on-set. Unfortunately, Tyler Baltierra's father, Butch, was not able to attend the festivities, due to his being unable to leave the state for legal reasons. Fingers crossed that Butch was Skyped in to give his thoughts on the season, though!
According to one audience member, who spoke with Real Mr. Housewife, Farrah's segment was full of drama, and revolved around her infamous sex tape.
"It was a big topic," the audience member told the site. "In one segment Dr. Drew specifically asked Michael [Abraham], 'One parent to another how do you cope with your daughter's involvement in the adult industry?"
"Michael… was hesitant and almost brought to tears as he discussed the way people continue to take shots at his daughter and family," the source stated. "This includes people on social media, Farrah's 'Teen Mom: OG' costars and MTV personnel."
Obviously, the big news out of the 'Teen Mom' trip to Los Angeles was that Maci's longtime boyfriend, Taylor McKinney, proposed to her on Venice Beach. The proposal took place during off-time from filming and, according to Farrah, Maci's co-stars were thrilled when she announced her big news.
"After her new fiancé proposed, they came to the studios to finish our reunion taping," Farrah told Us Weekly. "I stopped by their green room to congratulate them. We all hugged and embraced and congratulated Maci!"
Check out the photo gallery to see snaps of the three-day filming weekend! (Click the thumbnail to enlarge the photos).