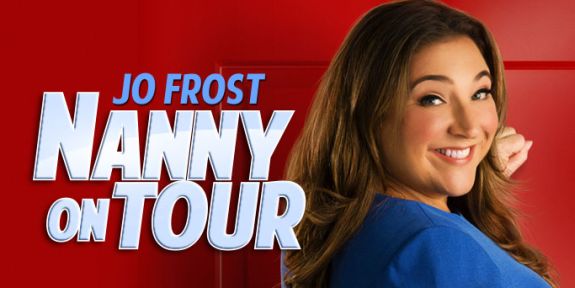 By Holly
Six years after she quit her successful reality show Supernanny, Jo Frost is back with a new show—and a road tour!
In a new interview with The TV Page, Jo talked about her new show Jo Frost: Nanny on Tour, as well as motherhood, and dealing with today's kids. She added that she's excited to go out and help parents in need.
"I am basically taking my office on the road," she told the site. "The [vehicle], for me, serves a true purpose in being able to act as a parental consultation office.
"You can take people out of their comfort zone, out of their homes and actually give them consultation and actually be able to talk about teenage challenges that those kids might not want to talk about in their own bedrooms or in their own homes," she said.
'Jo Frost: Nanny on Tour' will premiere on the UP Network on January 28. It will show Jo heading into the homes of families that need her, as usual, but there will also be a twist this season. She will also travel into communities to offer advice at community centers, shopping malls, airports and other places.
In her 'Supernanny' days, Jo usually dealt with tantrum-throwing toddlers, but on 'Nanny on Tour,' she will be dealing with older kids as well. The new show will cover topics such as dealing with video games, social media, and cyber bullying.
"I'm dealing with teenagers now," she told the site. "And sometimes 23- or 24-year-old moms who live at home with their own grandparents. Lots has happened in 10 years."
While Frost still defends some of her controversial discipline methods, such as the naughty step, she does say that her approach varies from family to family.
Back in 2010, Jo stated that one of the main reasons she quit 'Supernanny' was because she wanted to have children of her own. While that has not yet happened for Jo, she says that she still hopes to become a mother.
"That is gonna have to happen soon," Jo told The TV Page. But I know that I will be a working mom. This is my lifelong mission. It is my purpose to be able to help families."
Watch a sneak peek of 'Jo Frost: Nanny on Tour' below!
(Photo: UP)