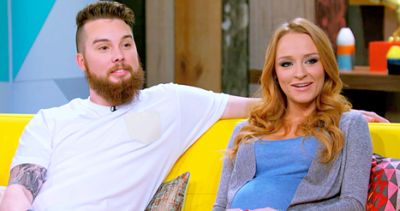 Maci Bookout's new fiance, Taylor McKinney, tackled tough questions from Teen Mom OG fans yesterday during a  Q&A session on the show's official Facebook page.
Taylor had been badgered relentlessly by the show's producers and fans (and sometimes even Maci herself) about when he was planning to propose. He finally popped the question last weekend, so the proposal (and his reluctance to ask Maci to marry him), were big topics of discussion during the Q&A session.
Fans held nothing back when asking Taylor questions; they even made him address why he and Maci are always shown drinking on the show, and why he and Maci decided to have a baby before getting married. Taylor took it like a champ and answered the hard questions!
As always, The Ashley has pulled out all of "the good stuff" from the Q&A session and placed it here on The Roundup for you to devour.
Anyway, on with the questions…
On whether he was pressured by MTV/Maci/ 'Teen Mom' fans to propose to Maci:
Taylor said that, even though the current season of 'Teen Mom OG' revolves around his unwillingness to propose to Maci, the show and the pressure from it had nothing to do with him proposing.
"The show was filmed months ago; the timing was right now," Taylor told a fan. "I told myself I didn't care what anybody else had to say, I was gonna do it when I felt the time was right. And when it hit me I just went with it."
Taylor also brought up that recent scene from the show in which Maci says that she and Taylor could "just end it" if he didn't want to discuss proposing.
"You get to see a small portion of it," Taylor wrote. "Don't get it twisted. And [Maci's] comment was about that conversation at the moment, not ending our relationship."
On the actual proposal:
Taylor popped the question on California's Venice Beach, while he and Maci were in Los Angeles to film the 'Teen Mom OG' Season 5B Reunion. In the Q&A session, he told fans about the proposal.
"The proposal just came together last minute," Taylor wrote. "But I had been working on the ring with Tara at Ring Finger Studios for a couple months."
Taylor said that he "absolutely" asked Bentley if it was OK if he proposed to Maci, and Bentley said yes.
"He teared up a little bit. He was very excited," Taylor said.
Taylor added that he got nervous right before he got down on one knee and asked Maci to marry him.
"My nerves went crazy right as I was about to do it," he said. "But I was pretty calm all day long."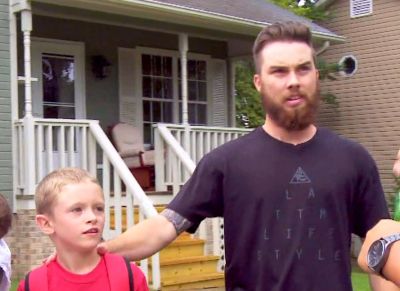 On his relationship with Bentley:
Taylor said that while he has a great relationship with Bentley now, it took the kid a while to warm up to him.
"He didn't want to share his momma at first, lol who could blame him?" Taylor wrote, adding that he and Bentley spend a lot of time together now. "We are very close. He loves sports and so we share a huge common bond with that. I try my best to make sure he knows we love him just as much as we love Jayde."
Taylor also revealed if Bentley will call Taylor "dad" now that he will be his stepfather.
"Nope, why would he? Just calls me T-Money," Taylor wrote, adding that he and Maci have no plans to fight for full custody of Bentley.
"[Bentley] has a very loving dad and family with the Edwards," Taylor wrote. "We're just one big family."
On how he gets along with Maci's ex, Ryan:
"We get along great," Taylor told a fan.
Even Maci is getting along better with Ryan these days, according to Taylor.
"Him and Maci have made huge leaps in the last year," he wrote. "It's just steady getting better."
On having a baby out of wedlock:
One fan asked Taylor why he was willing to father Maci's baby, but not marry her, and Taylor gave a very honest answer.
"Well that [pregnancy with Jayde] wasn't planned but why should I rush a proposal just because we had a baby?" he wrote. "I wanted it to still be special to her. It might not be considered the 'right way' but it's the way we ended up and we're all good. Loving every minute of it."
Taylor added that he and Maci may have more children in the future.
"We're talking about it," Taylor wrote. "I think we will if I get my way!"
On how being on 'Teen Mom' has changed his life:
"Life is not normal anymore but it's okay," Taylor wrote. "I just roll with the punches."
Luckily, he hasn't had any encounters with overzealous 'Teen Mom' fans– yet!
"I can't say I've had anything real weird yet, just the occasional pics," he wrote. "It's still weird to me."
With two seasons of filming under his belt now, Taylor seems to be getting used to living his life on-camera.
"Feeling more comfortable now than when I first started," he wrote. "[The 'Teen Mom' film crew is] like family and we have some good times."
On his wedding and honeymoon plans:
While Taylor and Maci haven't set a wedding date yet, Taylor did reveal when they wouldn't be saying "I do."
"Not winter, I hate the cold," he wrote, adding that he already has a few ideas for a honeymoon destination.
"I'm saying for Bora Bora or Maldives," he wrote. "As long as I can just be in one of those tiki huts out on the ocean. Hell I don't care if it's in Mexico."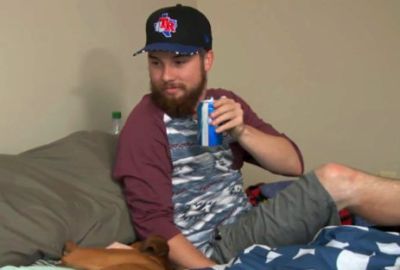 On whether or not he and Maci are great big drunks:
There's rarely a scene during Maci's segments of 'Teen Mom' where she and Taylor are not shown drinking, so fans wanted to know how much alcohol is actually consumed at the Bookout/McKinney house.
"We love us some [Bud Lights]," Taylor wrote. "We can [have fun without alcohol]…..but no good story started with a glass of milk."
Taylor is just the latest 'Teen Mom OG' star to do a Facebook Q&A session. Click here to read Maci's, here to read Catelynn Lowell's, here to read Amber Portwood's and here to read one that Farrah Abraham's mother, Debra Danielsen, recently did!
(Photos: MTV)