Things got a "little" crazy (pun intended) this weekend when the ladies of Little Women: LA went to a Southern California western bar to film a scene for the upcoming fourth season of their reality show. The night out ended with one of the show's stars in the hospital with serious head injuries!
TMZ was the first to report that 'Little Women: LA' star Christy McGinity Gibel was hospitalized after she allegedly received a  beatdown from one of her co-stars. A source for People later revealed that the co-star in question was actually Terra Jole, who also stars in her own reality show Terra's Little Family.
While all of the details of the brawl are still a bit murky, both outlets report that Christy, Terra and several other cast members were filming at a bar this weekend. According to People, Terra and Christy first got into a verbal argument. Terra apparently felt that Christy was spreading rumors about her and their cast mates. (TMZ claims that the ladies were not drunk—they were drinking ice tea and Christy is six years sober– so alcohol was not the fuel for the fight.)
The fight soon erupted into some sort of physical altercation, with Terra allegedly throwing her drink in Christy's face (as you do!) Soon, glassware was allegedly being heaved across the table!
"The other girls scrambled to get away from the table, as the fight between Terra and Christy escalated to glasses being thrown at each other," People's source stated. "Terra's glass did strike Christy on the back of the head, but not enough for it to be serious."
While the injuries may not have looked serious, the show's producers still opted to take Christy to urgent care to get checked out. TMZ reports that Christy eventually checked herself into Cedars-Sinai Medical Center in Los Angeles due to her head injuries.
Christy and Terra have stayed silent on their social media accounts in regard to the brawl. TMZ did, however, catch up with Todd outside of the hospital, and he gave an update on Christy's condition.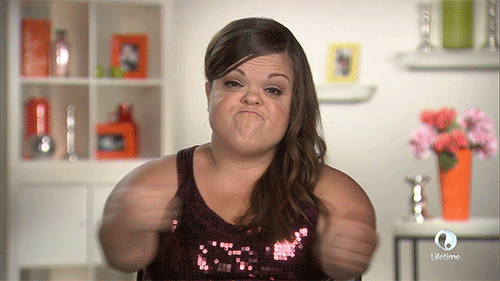 "Christy suffered a trauma to her head," Todd said in a video posted to the site. "She's in Cedars right now. This happened a few days ago and she's still suffering severe headaches. Unfortunately we just found out that those headaches could last for weeks, possibly months. She thought this was a bump on the head…but it's not showing any signs of going away."
Apparently, Terra and Christy have been rivals for years.
"They hate each other and always have and things have gotten worse over the years," People's source stated.
It's unknown if the brutal fight was captured on video; however, it's highly unlikely that any reality show film crew would see this fight going down and decide to put down the cameras. If it was filmed, the fight may be included in the upcoming fourth season, which premieres on January 27 on Lifetime.
UPDATE: Christy's husband, Todd Gibel, took to his Twitter tonight to clarify TMZ's story. In a series of tweets, Todd stated that the producers of 'Little Women: LA' never took Christy to urgent care after the incident occurred.
"Whoever told @tmz that producers took Christy to urgent care is not not being truthful. She went the next day when pain became unbearable," Todd tweeted.
He added a message from Christy.
"Christy is suffering from post concussion syndrome," Todd wrote. "It's painful but she's getting through. She wants to thank everyone who's reached out."
Late Tuesday night, Christy tweeted that she was home from the hospital and resting.
(Photos: Lifetime)