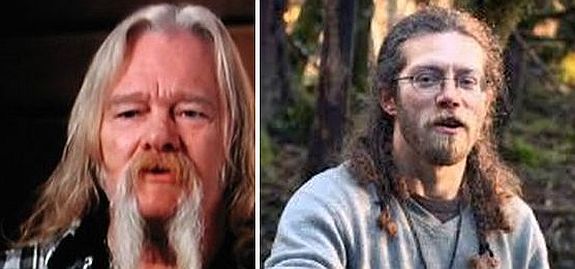 By Holly
Some of the Alaskan Bush People are about to become Alaskan jail people!
Last week, a judge ordered two of the show's stars, Billy and Joshua "Bam Bam" Brown, to spend 30 days in jail after they were convicted of lying about their residency to receive yearly oil revenue checks. (The checks are given to Alaskan residents each year.) The Browns were proven to have been actually living in Texas and Washington for two of the years they filed for the Alaska resident check
Billy and Joshua, who are father and son, respectively, had initially tried to make a plea deal, but that plea was rejected late last year. The two were sentenced to 40 hours of community service each along with their 30-day jail sentences. As a part of their punishment, the two must pay back the dividends they got, give up their rights to ever get a dividend again and complete 40 hours of community service work.
As we previously reported, other members of the Brown family were also charged originally, including Billy's wife, Amora "Ami" Brown and three of their other children (Solomon "Bear", Noah, and Gabriel). Those charges have since been dropped.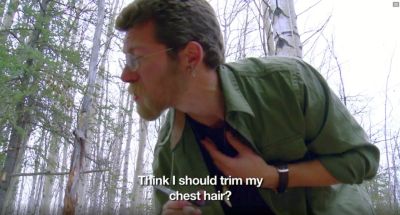 The judge stated that the community service work done by Bam Bam and Billy may not be filmed for their family's television show. Sorry, Discovery Channel.
With two of the show's most-popular stars heading behind bars, fans wondered whether the Discovery Channel would cancel the series. (Discovery Communications also owns the TLC network, which has a habit of cancelling programs when their stars get into trouble—see 19 Kids and Counting and Here Comes Honey Boo Boo.)
However, Discovery has issued several statements that confirm that the show will not be cancelled.
"There will be more episodes later in 2016!" a rep for the show wrote on the official 'Alaskan Bush People' Facebook page on January 7.
The network also issued a statement to FOX411 that indicated that the show will go on. It is not known, though, whether or not Bam Bam and Billy's jail sentences will be addressed on the show.
Billy recently gave a statement to People magazine.
"Alaska's dividend program has specific requirements for the length of time in the state, and the reasons for being out of Alaska. Because of the way we live our lives and the way we often unconventionally travel, I didn't keep good track of our movements," Billy told People. "I accept full responsibility for filing for benefits without confirming that we met the requirements. We are committed to living in Alaska for the long term and we respect the state's rules. I thought it best to settle to put this behind us."
As part of their punishment, the Browns will never be allowed to receive the state dividend again.
According to the Alaska Dispatch News, jail isn't the only option for the Brown men. Billy's attorney argued against jail time for him, citing his poor health. The elder Brown suffers from a seizure disorder as well as liver and heart problems. The newspaper reports that they could be placed in a halfway house or get ankle monitors and serve their jail sentences via house arrest. It will be up to the state's Department of Corrections to decide which route the Browns' punishment will take.
Both Browns made statements apologizing for their actions at the hearing.
"You will never see me in the judicial system again," Billy said.
(Photos: Discovery)