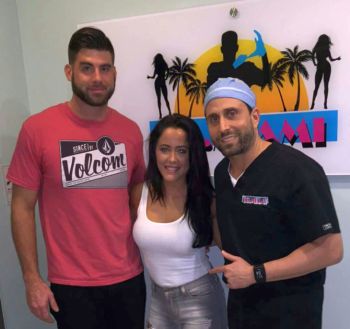 The Teen Mom world has gone plastic-surgery-crazy!
Jenelle Evans is the latest of the franchise's stars to consider going under the knife in the name of beauty. Less than a week after Teen Mom 3 star Briana  Jesus and Jenelle's Teen Mom 2 co-star, Kail Lowry got complete mommy makeovers, courtesy of Dr. Miami, Jenelle has scurried down to Florida to have her own consultation with the doctor, who is known for posting videos of his surgeries to SnapChat.
Jenelle met up with Dr. Miami this afternoon to get a consultation to have a chin augmentation. (Who knew you could even get a chin job? But, hey, if Briana get her lady parts augmented, anything is possible!)
Anyway, as per usual, the doctor SnapChatted his consultation with Jenelle.
"I wanted to get my chin looked at," Jenelle told the doctor. "I think it's too pointy."
Jenelle's boyfriend, David Eason (never one to miss a free trip), was asked for his opinion on Jenelle's chin. His response was an unintelligible grunt.
Jenelle's main complaint about her chin is that it pushes out too much when she smiles in photos. While the doctor agreed that Jenelle's chin could use some feminization, he declined to do the surgery on her, stating that he is not a doctor who specializes in chin jobs. He recommended that Jenelle see a surgeon who specializes in chin surgery.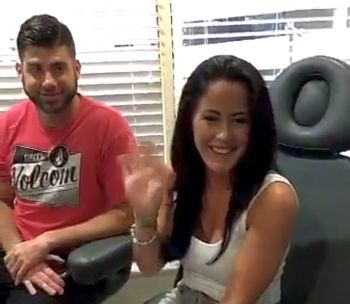 At this point, it is not know whether or not she will go to the chin specialist. (Obviously, we are all waiting with baited breath to find out, of course.) However, going to a different doctor means that Jenelle will likely not get the slick deal she would have gotten with Dr. Miami.
This is not Jenelle's first experience with plastic surgery. Several years ago she got breast implants, and has recently begun to use fillers in her lips.
If your day is really boring and you'd like to watch video of Jenelle's chin surgery consultation, you can do so below.
(Photos: Snapchat)