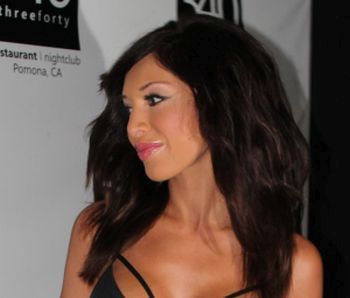 There's no doubt that Teen Mom star Farrah Abraham craves attention, and she seems to get a lot of it by engaging (and starting) Twitter wars with other high-profile celebrities. Earlier this month, Farrah engaged in a week-long social media battle with Nicki Minaj (as you do), after Nicki scolded Farrah for treating her mother, Debra Danielsen, poorly on 'Teen Mom.'
Of course, the Farrah/Nicki battle is now old news. In fact, Farrah has already moved on to her next social media feud, and this time her targets are Kendall Jenner and Khloe Kardashian, who poked fun at Farrah on the premiere episode of Khloe's new show, Kocktails with Khloe.
(Raise your hand if you enjoyed watching Snoop Dog impersonate the 'Backdoor Teen Mom.' He did a good job, but he needs to work on his ugly cry face a bit more if he wants to capture the true essence of Farrah.)
Anyway, Farrah was not amused by the skit and, as per usual, she took to all of her social media accounts to share her thoughts.
"Flattered that @SnoopDogg played me on @FYI I look forward to my own talk show when this one gets canceled," she captioned a photo of the skit that she posted to her Instagram. "We need better shows."
This is not the first time that Farrah has engaged in a Twitter war. She's used the site to battle everyone from her 'Teen Mom OG' co-stars to her 'Backdoor Teen Mom' partner James Deen and even her own parents.
However, she will have some competition if she wants to be the celebrity who gets the most retweets on Twitter this year. While Farrah's fantastic at stirring up controversy on social media, she's up against some masters of the craft.
According to this site, Donald Trump has the greatest odds of getting the most Twitter retweets in 2016, mostly due to his ability to offend great quantities of people via social media. Farrah didn't actually even make the Top 5, believe it or not! Clocking in with 29/1 odds, Farrah finished in six place, behind Donald, Kim Kardashian, Taylor Swift, Justin Bieber and Kanye West, in terms of who would get the most Twitter retweets in 2016.
In order for Farrah to get the most Twitter retweets for the year (and stir up the most controversy), she needs to step it up big time in terms of starting Twitter feuds! The Ashley is excited to see who she attacks next!