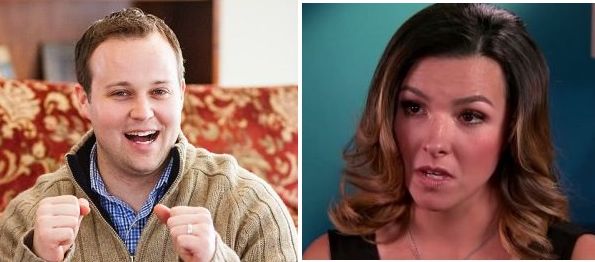 The Duggar Family's prayers have been answered! Danica Dillon, the stripper/adult film star who had previously accused the disgraced 19 Kids and Counting star of roughing her up during two sexy-time encounters she had with him, has dropped her lawsuit against Josh.
TMZ reports that Danica dropped the suit when Josh and his legal team stated that they were about to file documents that proved Danica was lying about the encounters.
In November, Danica filed a $500,000 law suit against Josh alleging he "assaulted her to the point of causing her physical and emotional injuries" during their trysts. She claims this happened on two separate occasions when she met ol' Joshy at a strip club in Philadelphia in March 2015 and he paid her $600 for lap dances.
Josh previously denied the encounters, stating in January that he never even met Danica, and wasn't in the state of Pennsylvania when their alleged sex sessions supposedly took place.
Earlier this month, Danica tried to fold the case, but Josh's team refused to allow her to do so, unless she agreed to retract her statements about, pay Josh's legal fees and agree to never file the case against Josh again. Danica initially refused those terms, but just recently agreed to drop the case forever against Josh, according to TMZ.
In return, Josh and his legal team promised not to file the documents that supposedly prove that Danica lied about the incidents. (This would benefit Danica, as she could find herself in legal trouble if the documents proved she lied.)
While that may be the agreement made between Danica and Josh, Danica is still professing that she did not lie about her encounters with Josh. She took to her Twitter account after the TMZ story was published to air her thoughts on the issue.
"Just because something was dropped doesn't mean it was a lie. #justsaying #thinkbeforeyoutweet," she tweeted on Friday afternoon
Josh has not yet made any statements regarding the dismissal of the case. The Duggar family has remained silent as well.
While it appears that Josh did not cheat on his wife, Anna, with Danica, he did admit in August to being unfaithful. After it was exposed that he maintained accounts on several Internet dating website, including the cheating website AshleyMadison.com, Josh released a statement confessing to his sins.
"I have been the biggest hypocrite ever," Josh said. "While espousing faith and family values, I have secretly over the last several years been viewing pornography on the internet and this became a secret addiction and I became unfaithful to my wife."
It is not yet known who Josh cheated with–or how–but now he can at least legally announce that it wasn't with Danica Dillon.
The big winner out of this case is still Danica, however. She has said that her career has greatly benefited from being involved in the scandal with Josh. She recently told Hustler that she has a lot of "mainstream" projects in the works currently.
"I guess I can thank Josh Duggar for that," she added.
(Photos: TLC, ET)