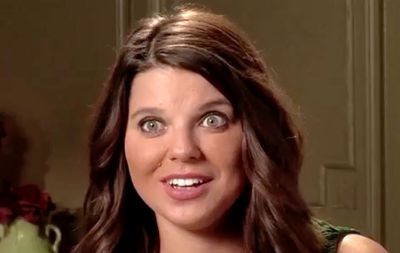 By Holly
Amy Duggar made guest appearances on her family's reality show, 19 Kids and Counting, over the years, but now she's ready to grab the spotlight on her own. Known as the 'rebellious' cousin of the conservative Duggar gals, Amy has begun to amp up her quest for stardom. She recently hired herself an agent and (somehow?) snagged herself the cover of this week's People magazine.
Of course, the Duggar family's conservative views on premarital sex came up within in the article, and Famey Amy was quick to reveal that, unlike her cousins Jill Dillard and Jessa Duggar, she was not a virgin on her wedding night.
Gasp! Her Uncle Jim Bob may never speak to her again!
"I am religious. However, that doesn't mean we have to live with so many rules and so many things that hold us back," she told the magazine.
Amy stated that, while she and her now-husband Dillon King held off on having sex until they were married, she had already lost her virginity by the time she began dating Dillon.
During the People interview, Amy also threw a little shade at her famous cousins (who refrained from even kissing until they were married).
"What if you get married and then that connection isn't there?" Amy said. "I think that if I was a virgin on my wedding night and had never been kissed, I would end up rocking in the corner! That is so much emotion all it once."
She did try to soothe that burn though by adding, "It's not that they're weird, it's not that they're crazy. It's just really extra conservative to the extreme."
It's OK, Amy, we know you can't bite the hands that feed you.
While the Duggars' future on television is still up in the air, Amy told Confidenti@l that she doesn't think the whole family should be punished for Josh's mistakes.
"I think that you're responsible for your own decisions and Joshua made the wrong ones, but that doesn't have to affect the rest of us," Amy said. "If feel like the whole family feels that way as well."
To ensure that she stays in the spotlight, Amy and her husband have signed with CEG Talent, an agency that represents celebrities and a plethora of reality TV stars. According to New York Daily News, the talent agency will be helping to book Amy for personal appearances, as well as advertising and social media campaigns.
In other words, get ready to see her Instagram account become overloaded with photos of her drinking some sort of "fitness tea" and using those weird teeth whiteners.
The talent agency that signed on to represent Amy believes that the public is dying to know more about her.
"That show had such a huge fan base, and a very loyal fan base, especially in Middle America," CEG Talent's CEO Michael Schweiger told New York Daily News. "Theirs is a big family, it's a loving family; America fell in love with that. But one small thing, the network, TLC, dropping the show and all the negative press that came with it, it wasn't fair to lay that press on everybody else in the family."
TLC may have taken '19 Kids and Counting' off the air, but apparently that won't stop Amy from riding her cousins' coattails to C-List fame!