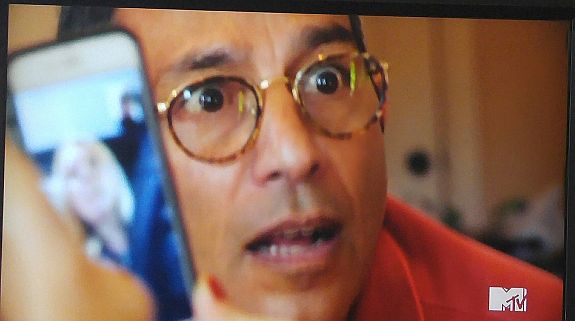 Welcome back to TeenMom-ville, where the MTV money is flowin' and the drama keeps growin' by the episode! This week's episode will be a doozie– what with all the court papers, medical issues and baby-daddy drama that MTV has managed to pack into one hour. Let's get this party started!
The episode starts off in Michigan, where Baby Nova is screaming and Catelynn is searching for someone to deal with it. Catelynn's mom, April, agrees to watch the kid, much to Catelynn's relief. Catelynn tells us that April has been watching Nova a lot because Catelynn's been busy "adjusting to life after her wedding."
Wait…what? That makes no sense at all, MTV. Whoever is writing these voice-overs is slacking Matt-and-Amber style because this explanation is ridiculous. Catelynn and Tyler already lived together, so it's not like they are busy moving into their newlywed nest. They already had a baby before getting married so…what is there to adjust to? She's literally just wearing a new ring. Oh, and she has to put all the loot from her wedding away. That's about it.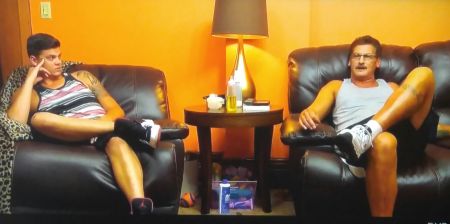 Catelynn and Tyler are in the living room planning their honeymoon when Tyler's mom, Kim comes over to chat. Butch staggers out of his room to join in the festivities. All of a sudden Kim and Butch realize that Baby Nova is nowhere to be found. Cate informs them that Nova has basically taken up residence in Casa de April.
Kim states that she has noticed that Cate has been dumping Nova off on April a lot lately. Even Butch finds it odd that Nova is gone so much. (Hey– when Butch is noticing that your parenting sucks, you know you should open your eyes!)
Kim, always the straight-shooter, wants to know what the hell it is that Cate and Ty do all day, given that they are not in school and neither have jobs outside of letting MTV come over and film them in their recliners. Catelynn says she plans to be a stay-at-home mom, so the producer asks Tyler if that makes him feel pressure to be the breadwinner of the family. (That's a nice way of saying, "You people do realize that someone will have to go get a job after this 'Teen Mom' thing goes in the crapper.")
Tyler says he enjoys telling stories but has no clue what he'd like to do with his life. Kim is totally confused by her son's lack of motivation to become a productive member of society.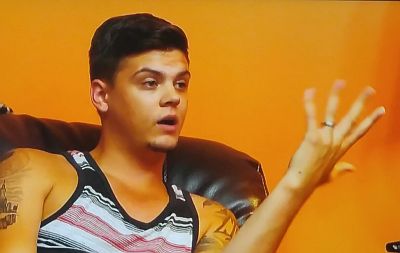 "I just don't see you motivated at all to do anything lately," she tells Tyler, who can't even argue with her. He then claims that he's in an "uninspiring environment."
Yes…life must be so hard having to live in that big house that you bought with 'Teen Mom' money. And it must be just awful to live job-free while other people your age are schlepping away behind the counter of Kentucky Fried Chicken, trying to make enough money to pay the rent for their studio apartment.
Can we get a hashtag on Twitter trending to help Tyler please? #SomeoneInspireTyler
Tyler says facing an endless "nightmare of conformity" (aka getting a real job) is his worst nightmare. Meanwhile, all of this talk of jobs and such is getting to Catelynn. She's doing her best to stay out of the conversation (all while checking her phone, most likely trying to find backup babysitters for Nova).
W..T..F did we just watch here? Kim looks just as stunned as we are watching this whinefest.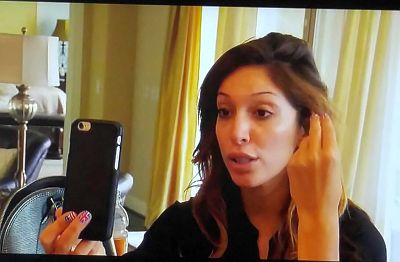 Speaking of whining, we next check in with Farrah, who is just days away from heading to the UK to cause international chaos on Celebrity Big Brother. She has enlisted Michael to watch Sophia and Debra is still sore over being replaced as babysitter, so Farrah calls her. Deb is planning to come to Farrah's house for a visit, but soon reveals that she's planning to stay at Farrah's house even after Farrah leaves.
Now, to be fair, Farrah did tell her mom not to do this and, as much as it pains The Ashley to say this, her wishes should be respected, since it is her house. However, Farrah immediately begins yelling into the Facetime.
Michael's face during this time is absolute gold. His eyes are popping out of his head in disbelief, his mouth is hanging open and he looks genuinely scared for his life. This may have been the moment that Michael realized that he helped to create a monster.
Farrah is angry that her parents have made plans behind her back(door). Debra acts like she didn't just get berated by her plastic daughter, and is still calling her baby and pretending nothing is wrong. She's still planning to come to Farrah's but Farrah is demanding that Deb leave the same day that she does.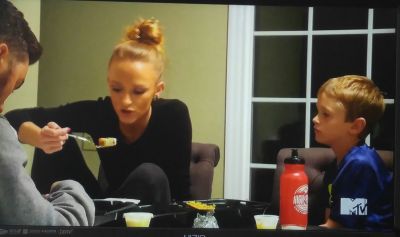 In Tennessee, it's the week of Bentley's birthday, so Maci and Taylor are planning his party. When Maci tells Bentley that Ryan may actually roll himself out of bed to attend the party, Bentley looks less-than-thrilled. (Does anyone else think Bentley looks kind of…scared…every time he's around Ryan or Ryan is mentioned?)
Maci says that since Ryan is currently single, he may actually come to Bentley's party and act like a regular human being. Maci reminisces about all the birthday parties that Ryan has attended with girls where he didn't talk to anyone and basically just put a few pizza slices in his back pocket and split before Bentley blew out the candles. (Hey– that 4pm nap ain't gonna take itself, y'all!)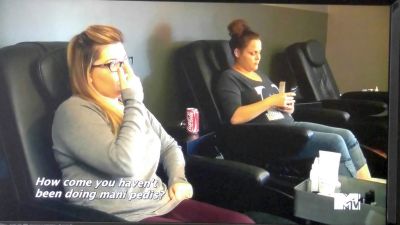 Meanwhile, in Indiana, Amber and Cousin Krystle are working that MTV expense account by getting mani-pedis. (You know Krystle wasn't going to miss a free spa trip!) Amber mentions that she doesn't usually get mani-pedis anymore (much to Krystle's dismay, surely), because she has a man now and doesn't need to.
Um…does Matt have a thing for overgrown toenails and calloused hands or something? It wouldn't surprise me. Actually, I'm kind of surprised Matt doesn't have his big ol' hairy foot propped up in the chair too, trying to get something, anything, for free while filming.
Anyway, Amber tells the manicurist about how she and Matt fell in love in a few days, despite the fact that he is decades older than her and they literally met on Twitter. The manicurists act like there's nothing fishy about Amber's love story, but, hey, their job is to chop her toenails, not give her life advice.
"He had to go through a test because I didn't want to be with somebody who just wanted me because I was on TV," Amber says.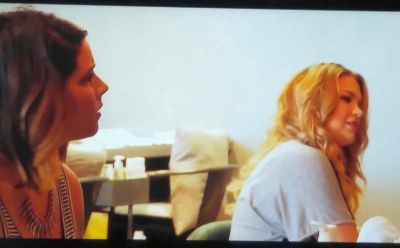 At that moment, Krystle turns to the camera and gives this great big awkward smile, almost like she's bursting to say something about what Amber just said but…then she'd probably have to pay for her pedicure herself so she just keeps quiet.
Meanwhile, Gary is surfing….the web. He's swam into some really good gossip, however. It turns out that Matt has court cases pending against him for 7 kids. (Read more about this here.) Gary calls Kristina in to show her what he's discovered and she's shocked. The court records show that Matt actually has seven kids (instead of the two he told Amber about), and they are all from different states.
Gary finds it frightening that Matt just up and moved to Indiana to be with Amber, despite the fact that he has seven kids scattered across the United States. Gary's debating whether or not to tell Amber about Matt's litter of children, given that he's afraid she'll "kill the messenger." Or, you know, kick the messenger down the stairs and throw a TV at him…or something…
In Tennessee, Maci wants to talk to Ryan about Bentley's birthday party. Maci is planning to leave for a wedding and throws a sledgehammer of a hint at Ryan's mom, Jen.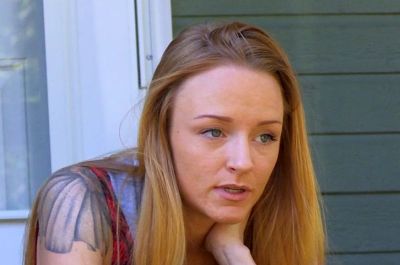 "I really don't want to take Jayde to this wedding," she moans.
Jen says she can watch Jayde for "a little bit" and Maci gets a big grin on her face, obviously pleased that her plan has worked. (Why not drop the kid off at Casa de April? Nova's already there, what's one more baby to watch? April can make some extra of whatever type of "Helper" she's cooking up that night for the kids.)
Ryan is busy being as inappropriate as ever. (Also, it looks like he's having a hard time keeping himself from slurring and drooling.) He asks Bentley if he plans to "hook up" with Jayde's friends when he gets older and they're all "lookin' all young and stuff."
Again, W…T…F…am I watching?
Ryan's mom looks completely mortified that 1) she raised this thing and 2) everything he said was just caught on camera.
Maci just happens to have brought everything Jen would need while watching Jayde…how convenient! She runs off before Jen changes her mind about watching the baby. Ryan calls Jen out for getting tricked into watching the baby, but Jen insists that she likes watching the kid. (Hopefully Ryan will knock another girl up within the next few years and Jen can get another grandkid of her own!)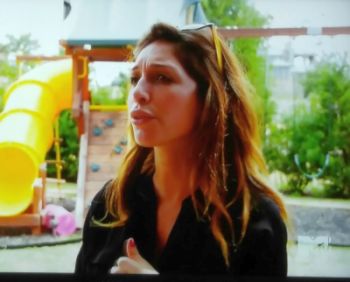 In Austin, Farrah is still upset because she thinks there's a conspiracy being plotted against her by her parents. Farrah kicks Sophia out of the room so she can scream at Michael. Farrah's adamant that Deb not stay at her house while she's gone. She continues to berate Michael, and he just stands there and takes it. Sophia watches the whole thing from the window and it's just plain sad.
During last episode's recap, I was joking about Producer Heather adopting Farrah. But…can she? For real adopt Sophia? Hell, at this point, Sophia would have a better shot being raised by Butch than Farrah. The kid doesn't stand a chance if she's forced to live with Farrah for the next 12 years or so…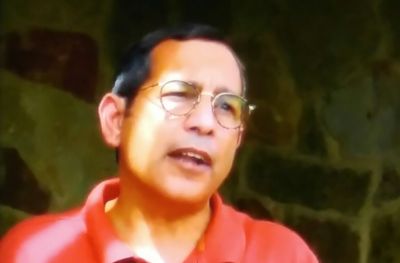 A few days later, Debra has arrived at Farrah's house. Things are tense what with Farrah fighting with Michael and Deb, and Farrah being a generally horrible person. To solve the problem of who is going to watch Sophia, Farrah does what anyone would do: she asks her six-year-old to make the decision for her. When Sophia reveals that she wants both Michael and Deb to watch her, Farrah looks like she's going to throw up.
Sophia claims that Michael was being boring because he was doing his work instead of spending all his time with her. Farrah starts talking to Sophia in that baby voice (which is usually reserved for conversations you have with newborn babies and/or small animals) and she promises Sophia that she will discipline Michael for daring to do work. (Isn't spending more than an hour with Farrah punishment enough?)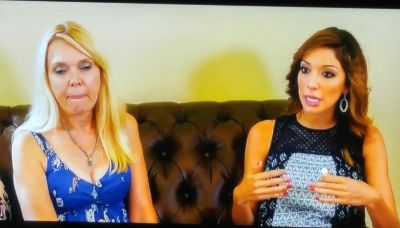 Farrah still can't figure out what to do so she calls in her therapist to do a home visit. (Wait– isn't this therapist from Nebraska? Did she legit fly to Texas to tell Farrah that she's a terrible person?)
Farrah tells the therapist that she doesn't trust her parents to watch Sophia. Debra, who is dressed like she's about to hit up Spring Break 2002, tells the therapist that she feels Farrah doesn't want her and Michael to watch Sophia together because Farrah feels ganged up on.
(Ironically, that may be the perfect title for Farrah's next, um…"leaked" sex tape: 'Ganged Up On.')
Deb and Michael look completely spent by all of this ridiculous drama over watching Sophia. They should both get up, tell Farrah she's on her own and leave. Then Farrah would be forced to drop Sophia off at April's House of Ditched Kids too. She'd be alongside Jayde and Nova.
The therapist reminds Farrah that she's the one that's ditching her daughter for a month to go gallivant around London and be on a reality show, so she needs to take it down a few notches when it comes to judging other people's parenting. Farrah finally agrees to let Mike and Debra watch Sophia together.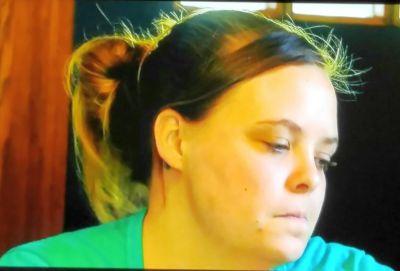 Meanwhile in Michigan, Catelynn is taking yet another break from Nova. She can't understand why Kim thinks it's weird that she pushes Nova off on her mom on the regular. Let's look at the picture here, though: Kim was out slaving to raise two kids while their father, Butch, was robbin', druggin' and servin' time in the big house. She fails to see how Catelynn, whose only job is to let producers film her folding laundry, can't watch her own kid.
Speaking of Kim, Tyler goes out to lunch with her to once again talk about his (lack of) future. Tyler says that he wants to be a writer, but when Kim reminds him that in order to do that, he'd actually have to write, Tyler rethinks that dream. All that typing….all that sitting…ain't nobody got time for that! (Well, nobody except Tyler because he doesn't actually have a job or anything to do.)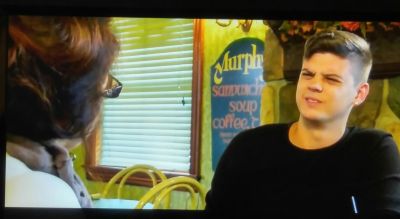 Next, Kim brings up the fact that Tyler and Catelynn keep dumping their baby off on people. Tyler confirms that Nova is gone at least two nights every week, even though there's really no reason for her not to be at home with her parents.
Kim suggests that Cate may be suffering from post-partum depression, but Tyler looks like he has no clue what the hell Kim's talking about. He's reluctant to mention to Cate that it's kind of weird that she keeps dumping Nova off.
"Who am I to question Catelynn?" he asks.
Um…her husband. The father of Nova. The SON OF BUTCH! (The last one has nothing to do with the situation, but I just like to mention Butch as much as humanly possible.)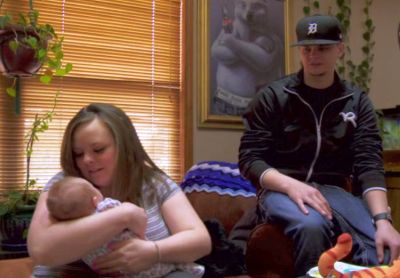 The next day, Catelynn finally picks up Nova, so Tyler decides to bring up the subject of Nova being gone all the time. Cate denies that she has post-partum depression, and seems angry that anyone has dared to question her parenting methods.
"Sometimes I just need a break," Catelynn says.
Tyler insists that Catelynn come to therapy with him to talk about whatever's going on.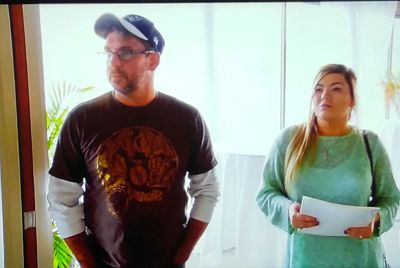 In Indiana, Amber has Leah so she and Matt go to look at wedding venues. Amber says she wants a white velvet wedding because, well, apparently she's going with some sort of Winona Judd theme? Matt doesn't seem to care what kind of wedding they have, just as long as Amber's paying for it and he gets to have a lot of free cake samples beforehand.
Meanwhile, Gary and Kristina are going to visit his lawyer. Gary proudly presents the papers he found that reveal that Matt has child support cases pending against him for seven children, filed by five different women. The lawyer seems surprised.
"He's not even from Indiana, is he?" she asks.
Apparently, this sort of situation is common in the Hooiser state?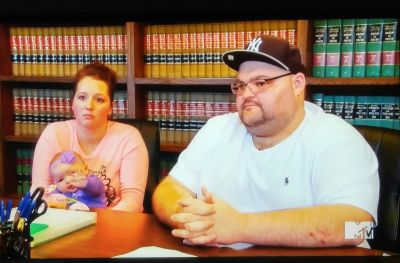 Gary says that this has made him distrust Matt even more, and he's unsure if he should tell Amber about what he's found. The lawyer encourages Gary to present the paperwork to Amber and Gary looks downright scared.
Over in Tennessee, it's Bentley's birthday, so the whole  gang is headed down to the bowling alley to celebrate. Even ol' Ryan has to join his son for the festivities.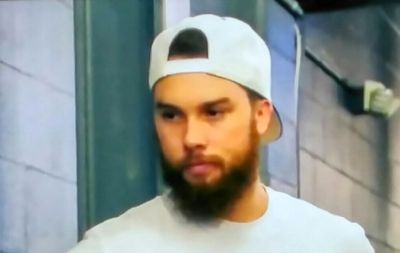 Ryan picks up Baby Jayde and Taylor is just giving him this death stare. He's trying to keep his cool but you can just tell that he's fuming that Ryan dared to touch his daughter. (Of course, MTV zooms right on in on him at that moment, to capture the maximum drama.)
Ryan actually acts like a decent human being. He interacts with Bentley and almost seems interested in being at the party, which is really a first for Ryan. Maci attributes this to Ryan not currently having a girlfriend. Maci says that she needs to find Ryan a girlfriend that's cool.
"He can't pick her because he doesn't pick very good ones," Maci says.
Um…didn't he pick you, Mace? Just sayin'….
Over in Indiana, it's time for Amber and Matt to drop Leah off at Gary's house. Gary is preparing to give the court case paperwork to Amber, so he goes outside, which is, apparently, something that doesn't happen very often because Amber is surprised to see Gary in the great outdoors.
He requests that Amber come in so they can talk but Amber refuses. Gary holds up the paperwork to entice her to come out of the car.
Amber can't help herself so she finally comes over to see what Gary's dangling in front of her. Gary explains that the paperwork concerns Matt.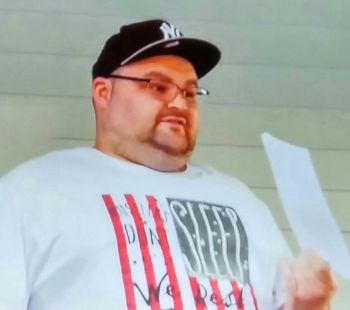 "Do you know how many kids he has?" Gary asks, to which Amber replies two. Gary shows her the court paperwork that clearly shows there are cases for seven kids. Amber looks genuinely shocked, but she denies that five of the seven are his kids. Gary brings up the fact that the court records show that there are cases for seven kids, but Amber seems to be in denial that this could be true. Her denial quickly turns to anger, which she directs at Gary.
She is mad that Gary chose to do this reveal on camera. However, let's look at the facts: Gary was smart to do it on camera. There's security present on every shoot. (Let's face it, while Amber may be a totally changed person, she has a history of physically abusing Gary.) It would not have been smart for Gary to do this in private, as he was unsure how Amber (and Matt) would react.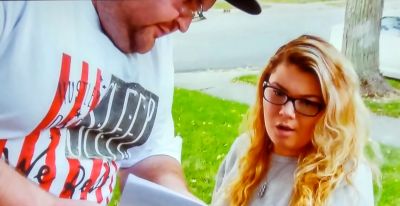 Amber storms off (but takes the paperwork with her). She gets back into the car and shoves the papers into Matt's face. She yells at Gary for presenting the papers on-camera and states that she knows her man! Meanwhile, Matt is pouring over the documents (perhaps Leah can read them to him?) He looks like he knows that the gravy train just wrecked and seems to be scrambling to figure out an explanation.
"I don't even know what half of this stuff is," Matt says.
Mmmmm—hmmmm….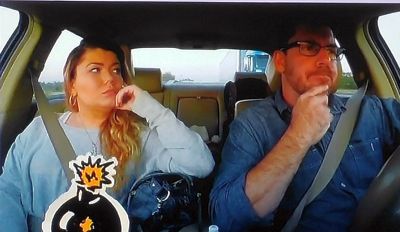 On the drive home, Matt is pretty quiet. He doesn't exactly deny that he has seven kids. His silence is alarming to Amber, who, despite her anger, we can tell she's starting to at least consider the possibility that what Gary found might be true.
Let's stop here. Despite the fact that Amber is now claiming that she's always known Matt has five kids, she clearly did not know about them when this episode was filmed in October. She clearly tells Gary that Matt has two kids…
When Matt and Amber arrive home, Amber announces (wait for it…) "I'M DONE!" She and Matt turn off the cameras in their car, but seem to forget that they are still wearing mics. Producer Heather asks to see Matt, but he immediately gets angry with her and tells her to get her cameras and get the f**k out of his (hahahaha) house.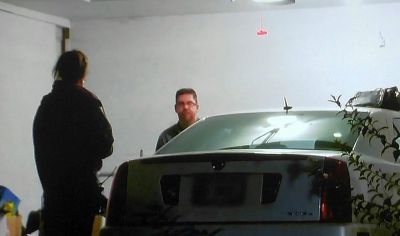 "Don't come back ever ever ever again!" he tells the producers. "She's been through enough!"
UM?!?!?! RED FLAG! RED FLAG! The fact that Matt doesn't want to discuss what Gary found, and that he immediately turned aggressive and angry should be alarming to Amber, but it isn't.
"I'm about to get medieval on this fat ass!" Matt screams about Gary, as Amber rushes to turn off the final camera in the car so that what takes place is not recorded.
Matt's mad that Amber was ambushed. Um…then why didn't you tell her about your extra freaking kids, bro? She was ambushed because of you!
Later, Matt tells Amber (while still mic'd up) that all of this will be going away soon. Amber says it won't, and that if it is true, Matt is a deadbeat dad. Amber says she thought she knew everything about Matt's past, but admits to not knowing anything about at least four of the women (and five of the kids) listed in the documents.
"You realize you're being crazy unfair?" Matt says.
UM?!?!?!?!
Matt insists that it's not true, and we end with Amber threatening to cut off Matt's life of luxury.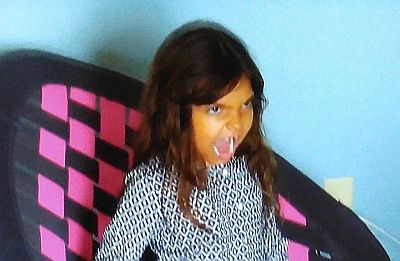 The episode should really just end there, but unfortunately, we still have to see what the other girls are up to. It's time for Farrah to leave for the UK, so she's stuffing all of her sex toys and whatnot into several suitcases.
Sophia is randomly shrieking around the house (as you do), and finally it's time for Farrah to say goodbye. Sophia doesn't seem all that bothered that her mom is leaving. (It's business as usual at this point.) Farrah, however, busts out a little ugly crying in the limo on the way to the airport.
Meanwhile, Cate and Ty are heading to their counselor to talk about their lack of parenting. Tyler asks the counselor how many nights away from home is too many for Nova. Cate says that Nova is gone an average of two or three nights a week.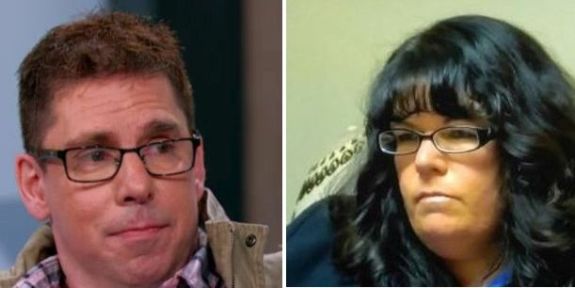 The counselor states that she thinks Nova is gone too many nights a week, and Catelynn denies it. Later, Tyler admits that he's been slacking in helping with Nova, and Catelynn doesn't argue with him. He offers to step up more and Catelynn seems relieved.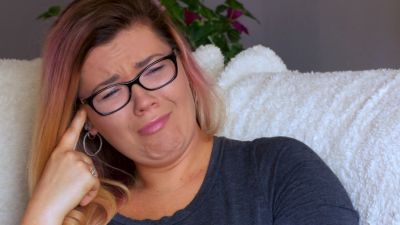 Finally, we get to go back into Amber's happy home to see how things are going over there. Matt has allowed the camera crew back into "his" home (most likely because Amber explained that she won't get any money for him to spend if they don't film with MTV). Matt says that Gary is just attacking him so that he can win the custody battle he's having with Amber over Leah.
"I want to believe the man who I've been with," Amber says. "But if it's true, then I'm going to look like a naive little girl…I'm going to feel really stupid."
She's breaking down in tears, and Matt doesn't say anything. Isn't that your answer right there, Amber?
(To read more about the Matt custody stuff, click here and here.)
To read The Ashley's recap of the previous episode of 'Teen Mom OG,' click here!
(Photos: MTV)