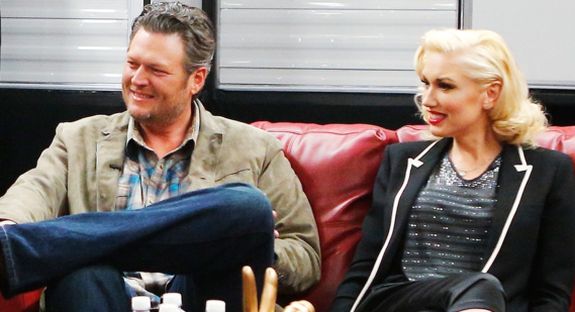 Blake Shelton got his wish: his girlfriend Gwen Stefani will continue to work with him on The Voice during Season 10, despite the fact that Christina Aguilera will be filling the coach's chair previously occupied by Gwen.
People has just confirmed that Gwen will serve as Blake's advisor on the upcoming season of 'The Voice.' As advisor, Gwen will work with Blake's team and help coach the singers alongside Blake.
"We know we collaborate well together as coaches, so of course I would have her as my mentor, and she's so smart and talented!" Blake, who started dating Gwen in October, told the magazine.
Back in December, Blake made it clear that he wanted Gwen to stay on the show, even though Christina had already committed to take over for Gwen for the next season.
"I don't want Gwen to not be on the show," Blake said during a coaches' interview with Extra. "Why can't we have a fifth coach?"
Several tabloids claimed last month that Blake threatened to quit 'The Voice' unless Gwen was brought back on in some way, but that report was not confirmed.
"But the execs knew that Blake was bluffing, thankfully," a source told Radar. "This is such a huge source of income for Blake and America loves him so they came up with a plan to bring Gwen back on as a mentor on Blake's team.
"It's a win-win situation really," the insider added. "If it doesn't work out between Blake and Gwen, than she simply stops mentoring. And if it does, well their mentoring sessions will give fans a glimpse inside their relationship."
Other advisors for the season will be Tori Kelly (who will be working with Adam Levine), Diddy for Team Pharrell and Patti LaBelle for Team Christina.
In the days since they announced their relationship, the media has gone into overdrive reporting on "Shefani"and this will certainly add more fuel to the fire!