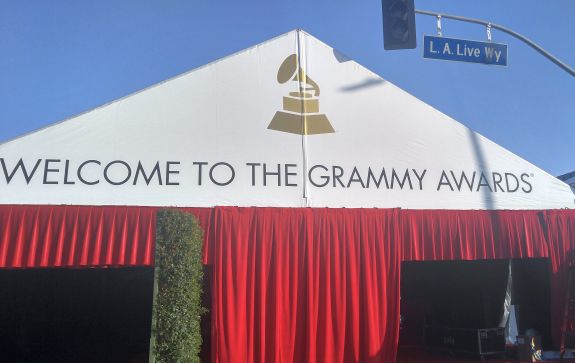 Everyone knows that the best part of any party is the goodie bag. (Well, that's The Ashley's favorite part, anyway!) The musicians, celebrities and reality TV stars who are attending the 58th Annual Grammys tonight will be going home with what may be the best party goodie bag ever!
The Ashley was given an exclusive tour of the Grammy Awards Official Talent Gift Lounge on Saturday, and she was able to see firsthand all of the cool loot that each celeb would be going home with.  Produced by Distinctive Assets the Gifting Lounge provided celebs the chance to come in and swoop up some cool products–everything from jewelry to shoes to a personal bartender! In total, each artist will walk away with a gift bag worth…wait for it… about $22,000 (according to Fortune's calculation.)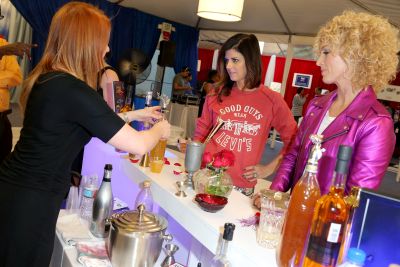 "One thing that might surprise people is how gracious the celebrities that have come through here are," said Marsha Meyer, owner of The Natural Mixologist. (Celebs will each receive a $2,250 certificate for Marsha to come to an event or party of their choosing and have her mix organic, vegan natural cocktails at for them and their guests.) "We've had people such as LL Cool J and Zendaya come through, and everyone has been so nice and appreciative."
Other big names to stroll through the Gifting Suite this weekend included Johnny Depp, Bow Wow, Little Big Town and Justin Bieber.
Singer and former House of Carter star Aaron Carter was making his way through the Gifting Lounge during The Ashley's tour. He was snagging a black goose-feather down jacket from Trespass Performance Clothing, which we may be seeing very again soon.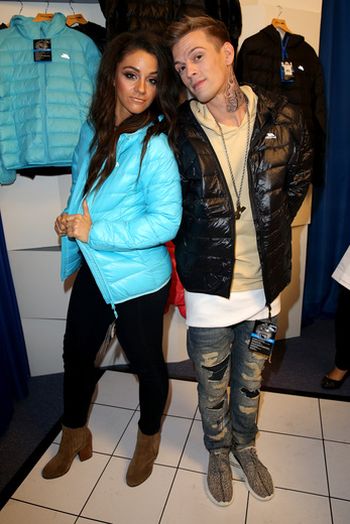 "Aaron said he is planning to wear our jacket in his next music video!" said a rep from Trespass.
The most expensive item in the gift bags is a $6,180 stay at the Live in Fitness resort in Hilton Head, South Carolina. The fitness package is basically a Biggest Loser-esque retreat that includes menu planning by a chef and nutritionist, a customized fitness plan, seven nights in a private villa and more. The celebs will also be treated to Fit Club TV fitness apparel and supplements.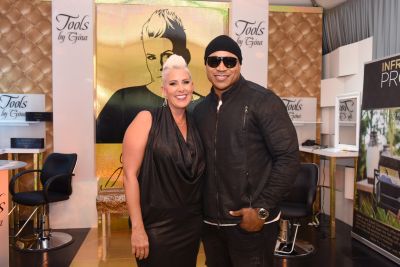 Tools by Gina gifted the celebs one of their Pure Infrared Technology Professional Styling tools, which use steam to style hair. Celebs were given a choice of the Tools by Gina blow dryer, curling iron or flat iron. (Justin Bieber chose the blow dryer, in case you care!)
"These are great for the artists who have, for instance, bleached hair because the steam puts moisture back into the hair, rather than further drying it out by using direct heat," said owner Gina Rivera. (You may recognize her– she was featured on an episode of Undercover Boss for her company Phenix Salon Suites!)
While all of the fancy stuff was fun, The Ashley was also happy to see a few gift items that help good causes, such as the truth booth. ("truth" is behind those amazing anti-tobacco commercials often shown on MTV, by the way. ) The organization was promoting its new "Catmageddon" campaign, which highlights how smoking can impact our pets.
"Pets are twice as likely to die from tobacco-related diseases if their owners smoke," a rep from truth told The Ashley. "We are giving the artists a gift box with pet apparel in it– scarves, doggie treats and lots of information to educate people about impact smoking has on our animals."
The artists were also gifted a special (and adorable) cat-print sneaker designed by Vans and Kevin Lyons.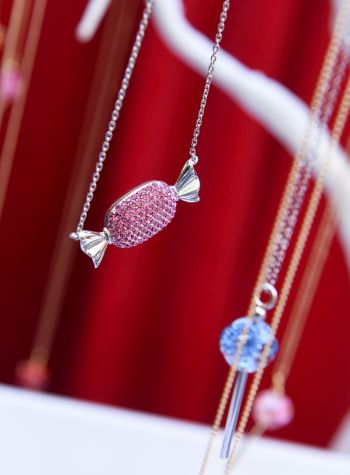 Simone I. Smith, the wife of Grammys host LL Cool J also contributed something very cool to the gift bags. Each celeb was allowed to choose a piece from Simone's jewelry line "A Sweet Touch of Hope." The line includes sparkly lollipop pendants in various colors and sizes.
The lollipop is meaningful for Simone, who has a lollipop tattooed on her ankle. After she was diagnosed with a rare form of cancer in 2004, Simone endured invasive treatments that left the tattoo permanently altered. ("It looked like a bite had been taken out of the lollipop," a rep for the line told The Ashley.) Now Simone views the altered tattoo as part of her cancer journey. For every piece sold in the line, $10 goes to the American Cancer Society.
Other stuff in the gift bags and lounge included a Patina Restaurant Group gift certificate, a $325 "24K Gold" facial from The Age Interventionist, and the Go Smile Dental Pro: Cleaning & Whitening System, to name just a few things.
In conclusion, famous people get a lot of really cool stuff.
(Photos except top photo: Courtesy of WireImage)