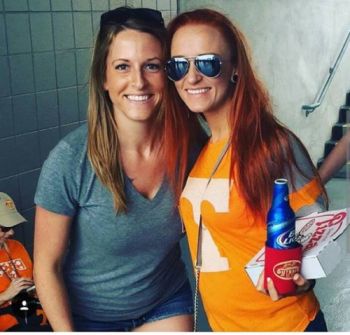 Maci Bookout surprised her fans yesterday when she announced that she is pregnant with her third child. The Teen Mom OG star, who, up until yesterday had given no indication that she was pregnant, wrote in an Instagram post that she and her fiance, Taylor McKinney, are expecting a baby boy. In an interview with MTV News, Maci stated that she is due May 30.
While the news no doubt surprised fans, it also concerned many others, due to Maci's frequent drinking on 'Teen Mom OG.' Maci told MTV News that she found out that she was expecting right after Taylor proposed to her. (The proposal took place during Maci and Taylor's trip to Los Angeles four weeks ago. Farrah Abraham and other 'Teen Mom OG' cast and crew have confirmed this.)
After Maci's announcement, fans expressed their concerns over the fact that Maci drank frequently during the first five-or-so months of her pregnancy.
"So is Maci Bookout the next public speaker for Fetal Alcohol Syndrome after drinking the first few months of pregnancy now?" one tweeted.
"So disappointed…accidental 3rd pregnancy and you're drinking through this one too? Good job Maci," a fan wrote.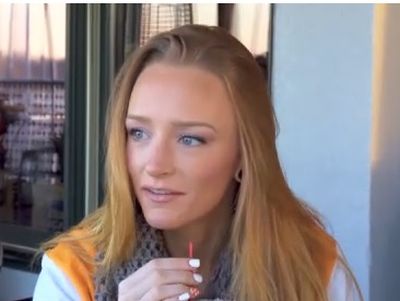 Judging by her due date, Maci conceived in early September. The current season of 'Teen Mom OG' was filmed in the fall and winter of 2015, during which Maci was pregnant. (She claims she wasn't aware she was expecting, however.) On each episode this season, Maci can be seen slugging back beers, drinking mimosas and partying hard.
As The Ashley told you- Maci and her 'Teen Mom OG' co-stars Amber Portwood and Catelynn Lowell partied so hard the night before the Season 5B After Show taping in December, they were given an IV "hangover cure" to help them get through the filming! At that point, Maci would have been at least three months pregnant at that point.
According to one of The Ashley's sources, Maci had no noticeable bump whatsoever during the taping, and was downing shots and drinks the whole weekend!
An Instagram photo from Maci's friend Rebecca's wedding on January  30, 2016  clearly shows Maci sitting with a glass of wine in front of her. By her own admission, Maci knew she was pregnant on that day. When that photo began to circulate the Internet, it added even more fuel to the fire.

"Sure that could have been someone else's drink," one disgruntled fan wrote. "But are we going to use that excuse every time this girl is photographed with a drink in her hand while pregnant?"
"It seems to me that she was hiding her pregnancy for so long because she was drinking," another wrote.
Fans have noticed Maci and Taylor's frequent drinking during 'Teen Mom' episodes. (Taylor even responded to questions about it in a recent Facebook Q&A. In that same Q&A session, which was done live on January 21, Taylor was asked if he and Maci will have more kids. He responded, "We're talking about it..I think we will if I get my way!")
Now that we know that Maci was pregnant while all of the drinking scenes were filmed, Maci's actions have sparked some outrage among 'Teen Mom' fans.
Maci and Taylor have yet to address the issue of Maci drinking throughout most of her pregnancy.
(Photos: Instagram, MTV)