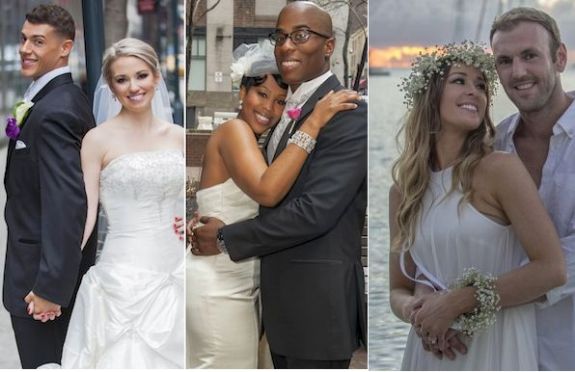 By Holly
Three brides will walk down the aisle in famous dresses, thanks to the women from the first season of Married at First Sight!
Monet Bell, who is now starring on the reality show #BlackLove, has put together a charity auction to benefit Brides Across America, a foundation that hosts two events a year in which military brides are given free wedding dresses.
Monet and her Season 1 co-star Cortney Hendrix have donated their wedding dresses to the "Bride it Forward" auction, while their co-star Jamie Otis is auctioning off the dress she wore for her vow renewal ceremony that was aired as part of Married at First Sight: The First Year Season 1. All of the proceeds from the auction will go to the Brides Across America foundation to help fund the dress giveaway events.
"When I heard that there are so many people in the military/veterans who struggle to find the finances for their wedding dress I was shocked," Monet wrote on Instagram. "The same people who go out and sacrifice their lives for us overseas have a tough time being able to afford a wedding dress?! This is just not ok. They should be the FIRST to have the wedding of their dreams."
On the auction website, Monet described her dress, which she wore when she married Vaughn Copeland on the show. While Monet's marriage may have ended in divorce, the wedding dress is still fabulous. The starting bid for the size 14, off white Sarah Danielle dress is $250.
"I wanted to Bride my wedding dress Forward because of two reasons: 1. I loved my dress and there was no way I would throw it away," Monet wrote. "Also, it has sat in my closet long enough and deserves a better home. 2. When I got my dress I was filled with so much and happiness. When I look at that wedding dress that's what I see and what I remember. I want the next woman to know my joy was with that dress and nothing else. I'm wishing the future owner of my dress nothing but blessings and happiness."
The starting bid for Jamie's vow renewal dress is $75.
"The moment I spotted my dress I knew it was perfect!" Jamie wrote of her dress. "I was planning my beach-side vow renewal and wanted my dress to be perfect! I pictured it flowing in the wind looking elegant and classy. From the moment I tried it on I knew it was the one. I felt sexy in a subtle, sophisticated way. Walking down the aisle toward the love of my life I smiled confidently. I knew I had an amazing husband. He's handsome, respectful and kind. And while he was watching me walk toward him he gave me that look-that look he gives me when I look stunning. I instantly felt butterflies.
"I had the most wonderful day in my wedding dress. I want to pay this feeling forward. I want you to feel gorgeous, loved, and happy."
Jamie's dress is by Monaco and is a size small.
The starting bid for Cortney's size 10 Allure Bridal dress is $250. Cortney wrote that she donated her dress with the hope that the next owner will feel like a queen on her special day.
New York City-based bakery Cake Fairies is auctioning off one of its custom cakes as well.
"After hearing about Monet's plans to support Brides Across America, Cake Fairies eagerly offered a wedding cake to be auction," the auction page reads.
To bid on any of the items, or get more information, click here!
(Photos: A&E)