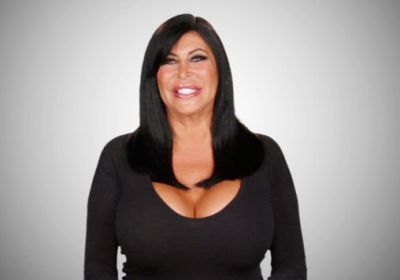 Sad news to report out of the reality TV world today: Mob Wives star Big Ang has died at the age of 55.
According to her friend Vinnie Medugno, the flamboyant reality star passed away just after 3 a.m. this morning, while she was surrounded by her family and friends. Vinnie posted a statement to Big Ang's official Twitter account this morning, confirming the sad news that the reality star had passed away after a battle with stage IV lung and brain cancer.
"It is with sad regret that we inform you that at 3:01 a.m. Angela Raiola peacefully ended her battle with cancer, and was called home," Vinnie's statement on Twitter reads. "She was surrounded by nothing but love from her immediate family, and closest friends. YOU, (Her fans) were some of the most special people in the world, and she loved you immensely.
"Thank you for your love, prayers, and unconditional support of Angela right to the very end. She truly went out richer than any monetary value could ever amount to. The family asks for privacy, and peace during this most difficult time. In typical Big Ang fashion, we know she would say 'Love you my babies!' This page will remain open as a celebration of who she was and will always be. It has been my esteemed privilege and honor to represent her in the highest regard via social media. Vinnie Medugno."
Big Ang had been battling cancer for almost a year. In March 2015, she was diagnosed with throat cancer after a lemon-sized tumor was found in her throat. After undergoing surgery, Big Ang was told in October that she was cancer-free. Unfortunately, the reality star's cancer returned in December, and Big Ang was told that it had spread to her lungs and brain.  By early February, Ang's health had dramatically declined.
"On January 26th the doctor reviewed her CT scan and informed us that the treatment was not working, and in fact one tumor grew larger and the other tumors had no change. We were advised that she would start immunotherapy the following week," Big Ang's sister, Janine Detore, wrote on a GoFundMe page she set up to help fund Ang's treatments. "Well here we are at the emergency room waiting to see why her breathing is labored and the amount of pain she is having is by far more than she could handle."
To date, that GoFundMe page has raised over $46,000.
Before her death, Big Ang filmed a segment for the Dr. Oz show in which she discussed her cancer battle. That segment, which was taped on January 29, aired on February 16, just days before her death.
Big Ang is survived by her husband, Neil Murphy (although Ang confirmed during her interview with Dr. Oz that she had left him during her treatments because he "never stepped up to the plate" to help her). She is also survived by her two children, six grandchildren, and many family members and friends.
According to TMZ, Big Ang's wish was to have her friends and family celebrate her life with a huge disco party at (now shuttered) Brooklyn discotheque Pastels.
"She wanted her family and friends to have a hard-drinking night where the music would reign supreme," the site reported. "Ang felt this was more appropriate to celebrate her life than a stodgy memorial service."
The site also reports that Ang will be buried, not cremated, as she was "freaked out by fire."
Burial and memorial information has not yet been released.