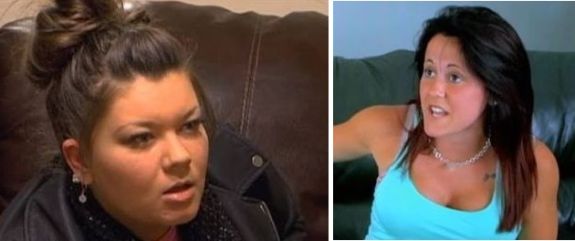 Let's get ready to rumble!
Teen Mom 2 star Jenelle Evans got into a nasty Twitter fight with Teen Mom OG star Amber Portwood last night, after Jenelle said some unflattering things about Amber's fiance, Matt Baier. As The Ashley told you yesterday, Amber and Matt are very much still together (despite rumors they had broken up) and are planning to tie the knot on October 10.
Last night, Amber made it (Cousin) Krystle clear that she is still standing by her man, regardless of what anyone thinks. Recently, it was brought to light that Matt had sent flattering tweets to both Jenelle and Farrah Abraham before he began dating Amber. (He met Amber on Twitter by doing the same thing to her, by the way.) After Jenelle and Farrah refused his advances, he tweeted some not-so-nice things about them, as well as 'Teen Mom 2' star Kail Lowry. When Jenelle brought up these tweets, all hell broke loose between her and Amber.
Jenelle has since deleted her tweets but Amber's still remain on her Twitter feed. (You can view the screenshots of the tweets by clicking here.)
"He was a Twitter hater," Jenelle tweeted to Amber (obviously referring to the mean tweets Matt posted about her.) "Stalker. After your money. You are being fooled. I wish you would see that. Not against you."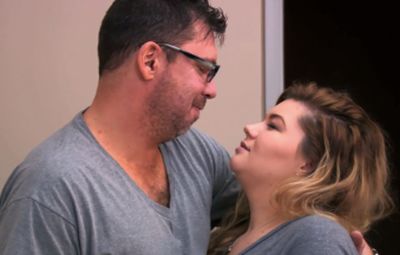 Amber was none-too-pleased with what Jenelle wrote about Matt and took to her Twitter to defend him.
"Matt is a sweet guy and stopped saying things about you when we started talking because I told him about all the heartache I went through from people hating on me," Amber tweeted. "It takes someone in our position to explain things for people to really know. We have nothing but love for y'all. And he's a great guy. Stop reading articles, you should know because you should know, that s**t is fake."
When a fan asked Jenelle if Matt had tried to get with her before he began dating Amber, Jenelle replied "Ew no!" which, again, pissed Amber off.
"Ew no? Well I'll see you in March sweetheart. But watch your mouth around me," Amber tweeted back. "Bitch I'll see you soon lol."
If things get physical between Jenelle and Amber when they meet up for 'Teen Mom' stuff in March, let's hope that someone has the common sense to film their brawl and sell it on Pay-Per-View! A Jenelle/Amber fight would be better than anything put out by the UFC! Let's cross our fingers that Jenelle's mom, Barbara Evans, is chosen as the referee!
(Photos: MTV)