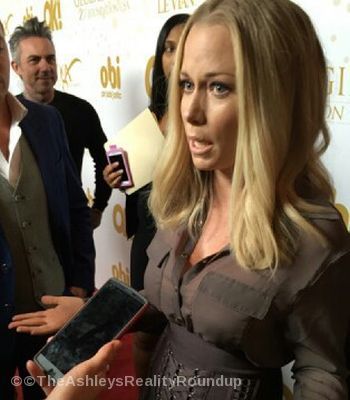 It's safe to say that 2014 wasn't a good year for Kendra Wilkinson. The reality star nearly ended her marriage to Hank Baskett after it was discovered that Hank had some sort of affair with a transsexual model while Kendra was pregnant with her second child. Instead of shrinking away from the spotlight during the crisis, Kendra chose to make it the focus of the third season of her reality show, Kendra On Top.
The Ashley caught up with Kendra on the red carpet of last night's OK! Magazine Pre-Oscars Party to find out why Kendra chose to put her marriage crisis on TV.
"I've had a show for nine years before that," Kendra told The Ashley exclusively. "I considered [not putting the crisis on camera] but I would have put a bunch of people out of a job, including myself! I had a lot to think about on that end as well. Why quit?"
The ever-candid Kendra also pointed out that the tabloids, as well as people in her own family were profiting off her pain.
"Other people around that situation were making money off of [our crisis] and living off of it, so why can't I?" she said.
Kendra confirmed that she and her family just started filming the fifth season of 'Kendra On Top.' While she was reluctant to talk about what will be featured on the new season, she did reveal what won't be discussed.
"This new season a lot is changing," Kendra said. "I am fully healed from all the drama that me and Hank went through. I don't think about it anymore, I'm healed and there's no going back. You won't hear us go back again this season."
There will also be no therapy sessions during Season 5.
"We used too much therapy, to the point where we needed therapy after all the therapy!" Kendra said. "I'm done with it, no more therapy!"
WEtv has not yet released a premiere date for 'Kendra on Top' Season 5, but The Ashley will keep you posted!
(Photo: Rosa Montano)