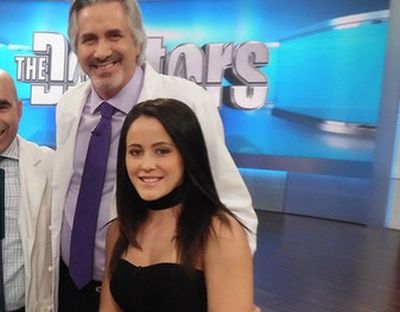 Teen Mom 2 star Jenelle Evans claims to be suffering from a series of mystery ailments, including joint pain, restless leg syndrome and hot flashes– and now she's seeking out TV's most-famous medical experts to help her figure out what's wrong with her.
Jenelle, who has been in Los Angeles all week vacationing and partying desperately seeking answers about her health, taped an episode of The Doctors on Friday to discuss her "mystery illness."
The description for the episode in which Jenelle will appear is now up on the official website for 'The Doctors.'
"'Teen Mom 2' star Jenelle Evans comes to the show seeking help for a 'mystery illness' she's been dealing with for several weeks? Can our doctors crack the case & figure out what's going on with her health?" the description reads.
A TMZ cameraman caught up with Jenelle as she and boytoy David Eason arrived in Los Angeles. According to Jenelle, she was in town to see a specialist to help her determine what has been causing her health issues.
"I've been having a lot of joint pain, knee pain, pelvic pain, hot flashes — just a lot of weird stuff going on," Jenelle told the cameraman. "This has been happening for six weeks consecutively and no one can — a lot of the reason why the doctors are so concerned is because I'm having severe hot flashes."
Jenelle added that she may consider quitting 'Teen Mom 2' if her health continues to decline.
Luckily, Jenelle's health crisis hasn't prevented her from living quite the life the last few months. From vacationing in Miami, to bowling and ice skating in New York, to partying in Los Angeles, Jenelle's been living it up, despite her 'debilitating' health issues. She is set to head to South Padre Island in Texas next week to party for Spring Break. As you do…
The episode of 'The Doctors' featuring Jenelle (and her restless legs) will air Friday, March 4 on CBS.
(Photo: CBS)