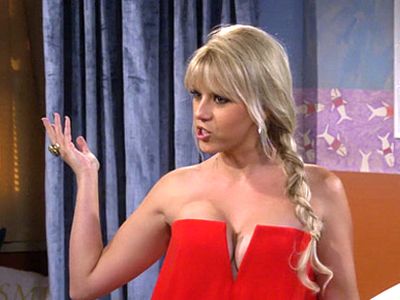 Have Mercy! Full House star Jodie Sweetin has just confirmed that she will be appearing on the upcoming season of Dancing with the Stars! Jodie, who has been enjoying a revamp of her acting career since starring on Fuller House, is the first Season 22 cast member to confirm their appearance.
As faithful 'Full House' fans know, Jodie is a trained dancer. Her character on the show, Stephanie Tanner, often showcased her professional dance moves throughout the series. (Who could forget Steph's hip-hop street dance to "Motown Philly?" Or when she and her friends randomly did a full, choreograghed dance at Stephanie's 10th birthday party!?)
Stephanie Jodie will be dancing with Keo Motsepe, who danced with Chaka Khan last season.
She announced her big news during a Good Morning America interview this morning, and later wrote about it on her Instagram account.
"Finally I can share this fantastic news that I'll be joining 'Dancing with the Stars'! Can't wait!" she captioned a photo of herself making the announcement on 'GMA.'
Jodie is not the first 'Full House' star to samba her way onto 'DWTS.' Her co-star Candace Cameron Bure appeared on Season 18 and finished in third place.
Anyway, the rest of the cast will be revealed on Good Morning America on March 8. Other celebs rumored to be taking part in Season 22 include America's Next Top Model winner Nyle DiMarco, 'GMA' weather anchor Ginger Zee, actress Kim Fields, Pittsburgh Steelers wide receiver Antonio Brown, Marla Maples (one of Donald Trump's ex-wives), and mixed martial artist Paige Van Zant. None of these rumored contestants have been confirmed, however.
While they're all great and whatnot…let's focus on what's really important: "Motown Philly Stephanie" is coming back!
Relive the magic that was Stephanie's "street dancing" by watching the 'Full House' clip below:
(Photo: Netflix)