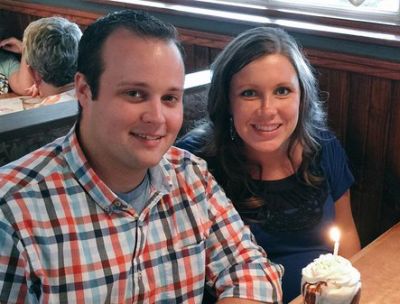 What a difference a year makes!
Last year, former 19 Kids and Counting star Josh Duggar spent his March 3 birthday by celebrating with his three children and wife, Anna, who was pregnant with the couple's fourth child, Meredith. He was busy working with the Family Research Council and promoting new episodes of the Duggar family's reality show.
Today marks Josh's 28th birthday, but there will be no cake, presents or reality shows to promote for him this year.
As The Ashley has previously reported, Josh is currently living in a long-term rehab facility, attempting to recover from his self-described p0rn-addiction. Josh's world came crashing down in May 2015, when In Touch Weekly revealed that he had once molested five young girls, four of whom were his own sisters. In August 2015, the Duggars were hit with yet another scandal when it was discovered that Josh had been cheating on his wife, Anna, via dating websites. Josh left for rehab shortly after admitting his affair.
Despite the disgrace that Josh has caused his family, the Duggars decided to mark the day by sending some birthday wishes to their son, via the family's official Facebook page.
"Today is our son Josh's birthday," Josh's parents, Michelle and Jim Bob Duggar, wrote. "The heartache of the past year cannot surpass the joy 28 years ago on this day when we first became parents! We love you Josh and believe your best days can be ahead of you. We continue to pray for you every day."
The rest of the Duggar clan has not mentioned Josh's birthday on their social media accounts. Even his wife Anna has been silent, although she did take to the family's blog in January to release a statement regarding the state of her marriage to Josh. She confessed that she had recently gone to the rehab facility to see her husband.
"Just recently I visited Josh," Anna wrote in January. "It was an important step on a long difficult road. I want to thank all of you for your prayers and messages of hope. I can never express how your kindness and prayers have brought encouragement when I needed it most-outpacing the grief and discouragement at every turn."
The Duggars have not revealed when Josh will leave the rehab facility, which is located in Illinois. However, the Duggar family has been doing just fine without ol' Joshy. In fact, they recently landed a full season of the '19 Kids and Counting' spin-off show, Jill & Jessa: Counting On.
(Photo: Instagram)